Fairmount Township firefighters climb 110 floors to honor fallen compatriots of 9/11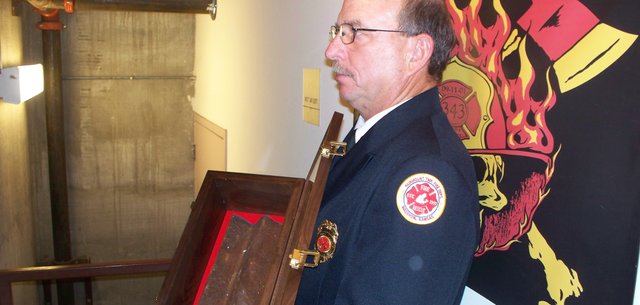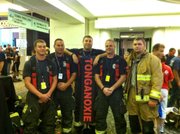 In the stairwell on the first floor of Town Pavilion in Kansas City, Mo., Sunday, Tony Turner of Basehor held a wooden case with a piece of steel inside.
Firefighters filed past him, each one stopping to reach inside the case and touch the steel piece before climbing the building's 34 flights of stairs another time. Some touched it and moved on, some stopped and reflected, and some lowered their heads and crossed themselves.
Touching that hunk of metal gave them a shot of energy, Turner said. It had that effect because it came from the World Trade Center towers that collapsed on Sept. 11, 2001, and these firefighters were honoring their New York counterparts who died 10 years before trying to save lives in those buildings.
As part of the first-ever Kansas City 9/11 Memorial Stair Climb on Sunday, organizer David Bova of the Lawrence Fire Department said 343 firefighters from 66 fire departments in six different states climbed 110 stories — the same height as the twin towers that fell.
The number of participants was no coincidence, either — it was the same number of firefighters who died at the World Trade Center.
At Town Pavilion, the climb meant scaling the building three times and part of a fourth, riding an elevator down between each trip. Each firefighter also wore a full set of gear.
Turner, an assistant chief and the chaplain for the Fairmount Township Fire Department in Basehor, said the piece of steel from the towers gave many participants a jolt of energy as the prepared for another long climb.
"The second or third time around, going up the stairs, they needed something to drive them," Turner said.
Steve Marquardt, who lives just outside Basehor, was one of three Fairmount Township firefighters to make the climb. He carried about 70 pounds of gear on the 110-floor journey, he said.
"How we would normally go into a fire, that's what we wore," Marquardt said.
The climb, which took about an hour and included a few short breaks, was one of the hardest things he'd done in his life, he said. Toward the end, he began feeling dizzy and a bit doubtful.
"You get to thinking about, you know, maybe you can't do it," Marquardt said.
But with the help of the group of firefighters accompanying him, he said, he made it. Brandon Roberts and Cody Green of Fairmount Township went along, and they were joined by four members of the city of Leavenworth's fire department in their group.
They climbed their final flight of the stairs in the building's lobby, with hundreds of people watching and cheering and bagpipes playing.
"It felt good, you know," Marquardt said. "You definitely walk up there with a smile."
Upon reaching the summit, Marquardt rang a bell and called out a name: Carlos Lillo, a paramedic for Battalion 49. Each firefighter on Sunday carried an identification card for one FDNY compatriot who died, to whom their climb that day was dedicated.
Bova said the Kansas City event was one of about 40 similar stair climbs around the country, each of which donates proceeds raised to the National Fallen Firefighter Foundation. The events began in 2005, though the 10th anniversary year is the first for the Kansas City climb. Bova said he plans to continue it as an annual event.
In its first year, the Kansas City climb raised about $12,000, he said.
Turner was one of four Fairmount Township firefighters who volunteered to help with the event while others made the climb. He had the additional honor of giving the event's opening prayer in the morning.
It was an especially significant honor, he said, because other firefighters were there from much larger departments in Kansas City, Mo., Kansas City, Kan., and other places (some even came from Oxford, Miss.). He said he prayed for comfort for the families and friends of the firefighters who died 10 years ago.
"I wanted to instill in them that their lives weren't lost in vain," Turner said.
Other Fairmount firefighters who volunteered were Jim Dickey, Stephanie Leonard and Ricky Bevell.
Marquardt, 21, was in sixth grade at Basehor Elementary 10 years ago when the World Trade Center was attacked. He watched coverage on TV that day, but as the years have passed and he became a firefighter, he developed a deeper appreciation and admiration for the firefighters who gave their lives.
"If I had a choice, I'd be on the New York fire team as well," Marquardt said.