Orscheln Farm
&

Home planning to buy former Wolf Creek Marketplace building, pending incentives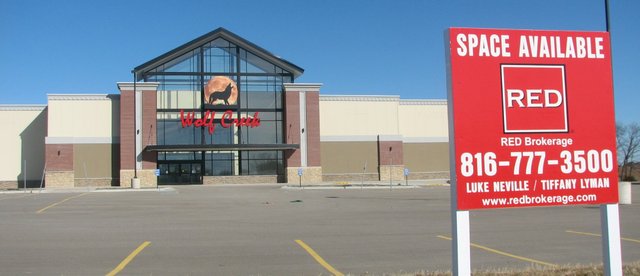 Orscheln Farm & Home has conditionally agreed to purchase and open a store in the former Wolf Creek Marketplace building in Basehor, an executive with the company confirmed Thursday.
The deal may hinge, though, on the Basehor City Council's willingness to offer a 95 percent property tax discount on the building for the rest of this decade, city administrator Mark Loughry said Wednesday afternoon.
Loughry said the company would also need to gain approval for a building modification from the Basehor Board of Zoning Appeals in order to move into the building on Wolf Creek Parkway near 155th Street and U.S. Highway 24-40, which has been vacant since the grocery store closed in 2010.
"If those two things can be resolved, I'm pretty confident they're going to go forward with the purchase," Loughry said.
Rick Powers, chief financial officer for Orscheln Farm & Home, said Thursday that the company hoped to open the store in February or March of 2012. But he said the company had some other hurdles to clear, in addition to the tax abatement and zoning codes, before it made a final decision to move forward with the deal.
"We've got several issues out there that we're trying to get resolved," Powers said.
Powers said he could not comment on what the other issues were.
Orscheln is asking the city to offer the same property tax abatement plan that it gave to the Wolf Creek grocery store formerly in the location, Loughry said. That plan called for the city to eliminate 95 percent of the tax owed on the property through 2019.
The city council will likely need to make a decision on whether to extend that offer at its meeting Monday, Loughry said, or a due-diligence period in Orscheln's contract may expire, forcing negotiations to begin again.
Powers said Orscheln was attracted to the location because of the quality of the building and because the company tends to aim for small markets and their surrounding rural customers rather than for big cities.
"We're a farm and home store," Powers said. "We're in towns of 3,000 people, and we do quite well in them, because we attract from the surrounding area. It's the type of product we carry."
The company is not concerned about other farm stores in nearby towns, Powers said, because many of its other stores are located in markets with a good deal of competition and have done well.
"It's just a fact of life that when you enter the retail business, you're going to have competition," Powers said.
Orscheln is the same group that was in negotiations with First National Bank of Olathe to buy the building this spring. At a city council meeting in March, Loughry reported — without naming the company — that those negotiations had ended because the two groups' offers were about $1 million apart.
At the time, Loughry said the company had offered about $1.8 million for the building, compared with about $6.5 million of outstanding debt that remained on the building when the bank took control.
He said Wednesday that he did not know what had changed in the negotiations.
"I really don't know what the price was (this time) and why now it's all of a sudden back on," Loughry said.
Powers said he could not comment on the negotiations.
Since the negotiations fell apart in March, the property has changed hands. On Aug. 12, First National Bank of Olathe was shut down by the Federal Deposit Insurance Corp., and its assets were sold to Enterprise Bank & Trust, based in St. Louis.
Orscheln Farm & Home, based in Moberly, Mo., operates 154 stores in nine states. In a letter to the city published in the agenda packet for Monday's city council meeting, Orscheln chief financial officer Richard Powers said, "Orscheln knows how to be successful in a small town."
The Wolf Creek Marketplace grocery store closed in February 2010, just more than seven months after it opened.
Check back to this site next week for more on this story.