Prairie Ridge fifth-graders come to aid of crossing guard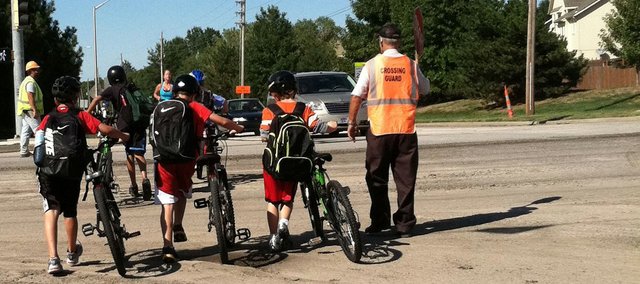 Board recognizes boys Monday
Jacob Hoffman, Brock Denney and Charlie McGraw were recognized by the De Soto school board at its 7 p.m. meeting Monday. Last week, the boys said they were expected to lead the Pledge of Allegiance, which Brock said he was practicing so that he would get all the words right.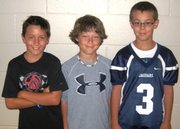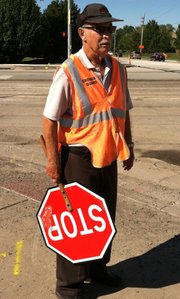 Something wasn't right. This much became obvious the closer a trio of Prairie Ridge Elementary fifth-graders got to the intersection they cross each day before and after school.
It was hot on Sept. 1, and at the corner of Monticello Road and Johnson Drive, crossing guard Ed Vance appeared to be having trouble staying upright. The stop sign he carried dropped to the ground as he struggled to maintain his balance. The boys approaching, Vance fell trying to retrieve the sign.
Jacob Hoffman, Brock Denney and Charlie McGraw rushed to help Vance to his feet, but they couldn't steady him.
A man pulled up nearby and called 911. The boys hurried to their homes to tell their parents. Noticing Vance's water bottle was empty, Jacob peeled into his garage and grabbed a Gatorade.
"I can't talk right now," he told his mother as she checked to see what was happening.
The three boys, who like to ride their bikes around nearby sewers and play with frogs, reconvened at the corner and stayed near Vance while paramedics checked his blood pressure and heart rate.
"We wanted to go back and make sure he was OK," Jacob said.
The boys recall Vance telling paramedics he wanted his stop sign back and that he was well enough to see the boys back across the street. Vance later said a combination of the heat and a bladder infection was responsible for the episode.
Having never been in such a situation, the boys were scared. They were worried, too, about the man who always tells them to have a good day or jokingly asks if they had to go to the principal's office that day. And on one occasion, Charlie remembered, Vance came to their rescue.
"One time when we were crossing, a car didn't see us," Charlie said. "If he wasn't there, we probably would have got ran over."
During Labor Day weekend Jacob took a plain sheet of paper, folded it in half and made Vance a card. He wrote "feel better" on the card's front and drew a crossing guard wearing a smile. Inside, he drew the stop sign Vance carries and wrote him a message telling him he was nice for staying out in the heat and in the cold to walk Jacob and his friends across the street.
"You are doing a great job at what you do," Jacob wrote. "I hope you can be a crossing guard more. P.S. you are also thankful."
When the boys reached the intersection Sept. 6, Vance wasn't there.
They wondered if he was coming back, if he was just taking the day off. They worried Vance — a Shawnee resident of 38 years — had quit his job or retired. They hoped the cooler weather would clear the way for him to return.
The next day, Vance was back at the corner studying traffic signals and gripping his stop sign. That morning, Jacob finally handed Vance his card as he and his classmates passed.
After school, cars whirred by and ongoing construction made for a busy scene at the Monticello Road and Johnson Drive intersection.
Behind a pair of sunglasses and a ball cap, Vance greeted the first group of kids on their way home.
"How you doing? You ready to go home?" he asked. "Are any of you named Jacob?"
That morning, Vance didn't have time to see who among the miniature sea of cyclists deposited a get well card in his hand. None of the first three boys were named Jacob, but one said Jacob would probably be arriving in the next group.
"Which one of you is Jacob?" he asked the second batch of students.
This time, Jacob waved at Vance.
"Thank you for that card this morning," Vance said. And with that, he guided the three boys across the street one more time.
"It's a good corner," he said, returning to his post.