Injury, adversity test Basehor-Linwood volleyball at Lansing Invitational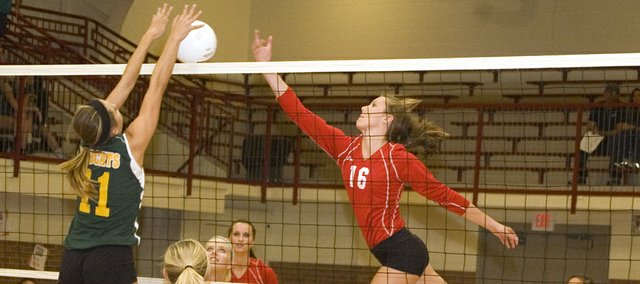 There was little doubt the Basehor-Linwood volleyball team was in the toughest pool to start the Lansing Invitational Saturday at LHS.
Tournament champion Lansing, third-place match winner Olathe Northwest and fifth-place match winner De Soto all hailed from the Bobcats' pool. For their part, the Bobcats closed out the tournament with a victory against Shawnee Mission North in the seventh-place match.
The difficulty of competition had plenty to do with Basehor-Linwood's 2-4 record at the tournament and masked what at times was a solid performance by the Bobcats.
They played one of their best matches of the tournament in a 25-22, 25-22 loss to Lansing. They also took down Class 6A opponent Shawnee Mission West 25-16, 26-24.
Basehor-Linwood's final victory of the day came in a hard-fought 29-25, 25-17, 25-16 victory against Class 6A Shawnee Mission North.
The match against Lansing was a particular highlight for Basehor-Linwood — but also a cause for frustration.
"The girls fought hard," BLHS coach Amy Irvin said. "Then later finding out Lansing won the tourney, made my girls even more angry and wanting to play them again."
Another cause of frustration — albeit beyond the Bobcats' control — was an injury to a key player early in the tournament.
"We played well the first game and then we lost Cara McCarty, our middle hitter," Irvin said. "She rolled her ankle on the foot of the opposing team. We had a hard time recuperating from losing her."
Minus a three-year starter, the Bobcats had a few players step up and lead the way statistically. Brandi Stahl recorded 24 kills. Haley Waters had a team-high 14 digs. In addition, freshman Abbey Mellies — who filled in for a teammate who was taking the ACT test — led the team with six blocks.
For Irvin, the tournament was a teaching moment for her team.
"I told them that each match is about who wants it more and who is going to give the best fight," Irvin said. "Anyone can win any given match. We are working on our mental toughness. We seem to do well until we start making mistakes, then they become consecutive and it hurts us. I know the girls want to win. Now it is about putting it all out on the line and pushing points for each win."
The Lansing Invitational was the team's first tournament of the season. It was a good starting point, but Irvin said her team has plenty of room to improve.
"We are still only in the beginning of our season," she said. "We are improving in all areas and are starting to understand that we are going to have to work for our successes if we want to be a competitive team."
She said becoming a team who is competitive in each match is one of her goals for the program.
"That was my one goal for taking over this program: that our program would become an extreme competitor in all matches we play and in league," she said. "We are always so close. It is going to take us that one time to get over that hump, and then watch out. We are always within a couple of points, and that is really making the girls understand that we cannot make the mistakes we are making at a varsity level and expect to compete with the teams we are playing. I know we will get to the point of domination and it will show the girls that hard work and mental toughness pays off."