Basehor City Council votes to fire administrator Loughry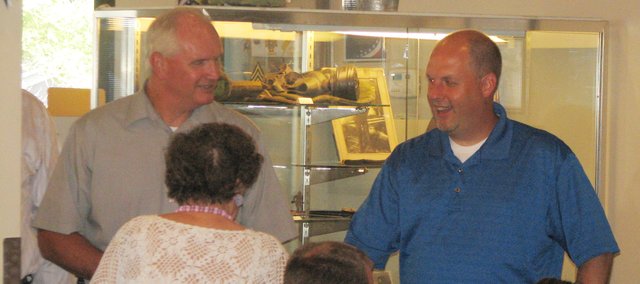 The Basehor City Council voted Monday night to oust city administrator Mark Loughry from his position, in a split decision that led one council member to storm out of the building.
Four months after unanimously re-appointing Loughry as the city administrator, the council voted, 3-2, to remove his appointment after council president Dennis Mertz's motion to do so.
Along with Mertz, members Fred Box and Iris Dysart voted to remove Loughry, and members David Breuer and Travis Miles voted against the motion.
Soon after the vote was taken, Breuer stood up, threw a packet of papers across the council's table against a wall, and walked out of Basehor City Hall. The council voted to adjourn the meeting quickly afterward.
After the meeting, all council members declined to comment on the decision, except for Breuer, who was unavailable. Loughry was absent from Monday's meeting. Mayor Terry Hill said he was on vacation with his family.
Hill said he had asked city attorney Shannon Marcano to look into the possibility of a veto or another measure to undo the vote.
"If I could do anything about it, I would," Hill said. "I don't know what it would be."
The council voted to remove Loughry after addressing its final agenda item for the night, a proposed addendum to Loughry's employment agreement with the city. The addendum stated that Loughry would "receive the same cost of living increase as other City employees" and that the city would pay 100 percent of health insurance premiums for Loughry and his family.
Marcano said the proposed addendum was meant to formalize the pay and benefits that Loughry's contract originally "anticipated."
To that, Mertz replied: "The past attorney said the opposite."
He did not say to which "past attorney" he was referring.
After a vote to deny the addendum to Loughry's contract (3-2, with Breuer and Miles opposing), Mertz made his motion to remove Loughry from the administrator position.
Afterward, Breuer asked Mertz to explain his motion.
"Are you serious?" Breuer said. "Can you give a reason why? Because somebody miswrote, in your opinion, his contract? I mean, I think it's a pretty serious accusation here."
Mertz replied, "I agree, without going into a lot of detail about it."
In return, Breuer said the council should discuss the decision.
"I think we need to know if there's anything illegal or needs to be investigated, before we take a vote on sitting up here and eliminating somebody's job," Breuer said.
In response, Mertz asked Marcano if a "former attorney's packet" that the council viewed in an executive session qualified as public record. After a discussion between Mertz and Marcano regarding whether the material should be discussed in open session, the council voted on the issue with no further explanation.
For more on this story and Monday's council meeting, check the online and print editions of the Sentinel later this week.