BLHS

volleyball shows poise, beats Tonganoxie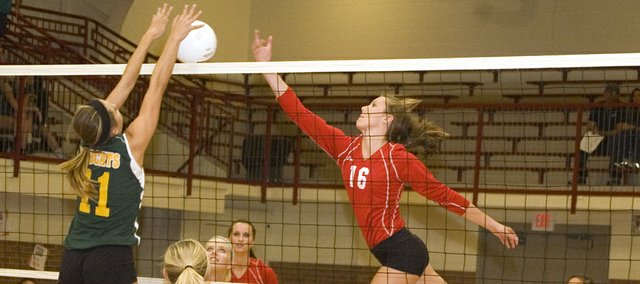 The Basehor-Linwood volleyball program turned in a breakthrough performance against Tonganoxie.
The Bobcats had put together some strong performances early in the season, but their 3-1 victory in the best-of-five match Tuesday, Sept. 13, at Tonganoxie was their most consistent effort yet.
BLHS won the match 23-25, 27-25, 25-14, 25-22.
"We played our best volleyball of the season," first-year coach Amy Irvin said. "The girls played like they were out to win, and they did. They played with heart and mental toughness."
Irvin said her team is quite talented, but it is a matter of putting all components of volleyball together; offense, defense and handling the mental aspects of the game.
Tonganoxie took advantage of some of the Bobcats' mental mistakes in game one and claimed the victory, but BLHS regrouped after that. A quick pep talk helped the squad focus, and the Bobcats didn't lose their focus the rest of the night.
"We lost the first game by very little, and we told ourselves we were going to win the next three games, and we did just that," Irvin said. "The start of the third game, it was 10-2 and we were pushing another win. The fourth game we were behind 14-19 and pushed points and pulled out another victory to win the match.
"The girls showed how much they wanted to beat Tonganoxie," Irvin added. "The girls really wanted it. I have never seen us fight like that."
During the match, Basehor-Linwood also ran an effective offense.
"Our offense was run perfectly," Irvin said. "Cara McCarty, Jamie Johnson and Brandi Stahl were really aggressive at the net, and that is also something I have been asking our team to do — play aggressively."
Basehor-Linwood also worked on cutting down its free balls and instead attacking every ball.
On the stat line, McCarty led the team with 11 blocks. Brandi Stahl and McCarty each recorded 12 kills and Jamie Johnson had 11.
Stahl also was a top server for the Bobcats, compiling seven aces. On defense, Haley Waters recorded nine digs.
For Irvin, it was the type of win the program can build upon.
"We are building on this win," Irvin said. "It was a huge win for us. We outplayed them and are going to give each match and opponent the same fight. Tonganoxie is a huge rival. We knew we had to execute plays, play with heart and play smart. Those were the keys to our victory."
Win the win, Basehor-Linwood is 8-6 and undefeated in Kaw Valley League play.