Avoiding the flu: Time for vaccines, health officials say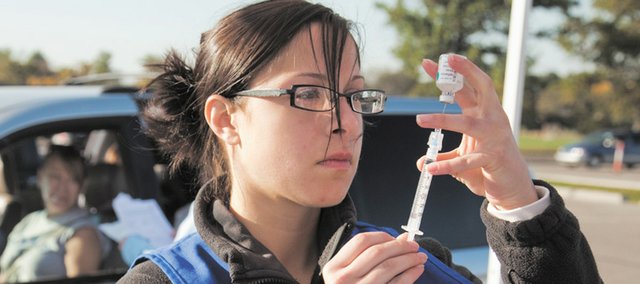 Some health providers already have begun flu clinics, and flu shots will continue to be offered the vaccine throughout the influenza season. Here, officials with the Kansas Department of Health and Environment discuss flu shots.
Q: Who should be vaccinated?
A: This fall, everyone 6 months and older should get vaccinated against flu, even if they got vaccinated last season.
Q: What is the big deal about getting vaccinated?
A: By getting the flu vaccine you can protect yourself from influenza and may also avoid spreading influenza to others.
Q: When is flu season?
A: Flu season can begin as early as October. Its severity and timing are impossible to predict and may vary widely from year to year, but "there is no reason to wait until flu season hits before getting a flu shot," said KDHE secretary Robert Moser. "Get the flu vaccine as soon as it's available in your community to protect yourself and your family throughout the flu season."
Q: How long does it take after I get my flu shot for it to be effective?
A: It takes about two weeks after vaccination for antibodies to develop in the body and provide protection against influenza virus infection.
Q: Is there an alternative to getting a "flu shot?"
A: There are two types of influenza vaccine:
Attenuated influenza vaccine contains live but weakened influenza virus and is sprayed into the nostrils. If you're phobic about needles and you're between 2 and 49 years of age, ask your health provider about the nasal spray vaccine. It's just as safe and just as effective as the injection, and it may be the right vaccine for you.
The second is the inactivated (killed) influenza vaccine, or "flu shot," which is given by injection with a needle.