Basehor council's vote to remove Loughry sparks shock, questions at City Hall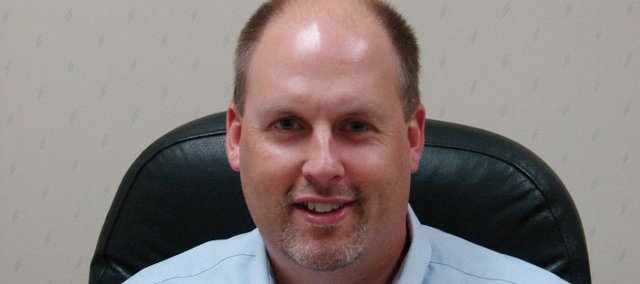 Special meeting called
The Basehor City Council has called a special meeting for Thursday morning to discuss the city administrator job. Click here to read more.
The Basehor City Council voted Monday night to oust city administrator Mark Loughry from his position after two years on the job.
The split vote led one council member to storm out of Basehor City Hall, and it has left the city government in a state of limbo as it investigates whether the move was legally valid.
"This is far from being over," Mayor Terry Hill said Tuesday.
Loughry was absent from the council meeting, returning with his family from a vacation to Branson, Mo.
Near the end of the meeting Monday, Council President Dennis Mertz made a motion to "remove the appointment of city administrator." Members Fred Box and Iris Dysart joined Mertz in voting for the motion, and David Breuer and Travis Miles voted against.
Soon afterward, Breuer stood up, threw a packet of papers across the council's table against a wall, and walked out of Basehor City Hall. The council voted to adjourn the meeting quickly afterward.
Breuer said Wednesday his reaction reflected his total surprise at what had just happened.
"I was totally shocked," Breuer said. "I was confused. I had no idea what was going on."
Loughry, who spoke Wednesday with the Sentinel, said he found out about the vote about 10:30 p.m. Monday, shortly after he and his family had arrived home.
"I guess I would say it was kind of a shock to me, seeing as how I was on vacation," Loughry said.
The three council members who voted for Loughry's ouster said they could not comment on the reason for their choice, as it involved a personnel issue and they were unsure if they could discuss it publicly. Mertz, though, did clarify what his exact intention was: to terminate Loughry's employment with the city.
"He's done," Mertz said. "He's gone."
SHOCK AND CONFUSION
The vote to remove Loughry came as a shock to Hill, as well, the mayor said. from page 1
And in the aftermath of that surprising move, the city is unsure what will happen next, he said.
"There are so many unanswered questions with this," Hill said.
When Mertz made his motion to remove the appointment, he cited a Kansas state statute dictating that any appointed city officer "may be removed by a majority vote" of the city council.
But Hill said the city attorney, Shannon Marcano, was investigating whether that statute conflicts with the city of Basehor's charter or Loughry's contract, signed in August 2009. Loughry's contract, for instance, states that the city council must conduct a hearing with Loughry in executive session at least 10 days before terminating his employment, to allow him to defend himself. No such hearing has taken place, Hill said.
Hill said those questions left Loughry's exact status unsure at the moment. As it stands now, Loughry is not coming in to work, but he will continue to be paid, Hill said.
"I told him not to return to the office, but as far as I was concerned, he was still the city administrator," Hill said.
Marcano said Wednesday she could not comment on what would happen next.
Loughry has been city administrator since August 2009. He was appointed by Hill and approved unanimously by the city council at that time. His contract listed a starting salary of $88,000, and his current salary is $89,773.
Both council members who voted against Loughry's removal said they did not understand the reason for the ouster, as the other members did not provide explanations for their votes or request that the council meet first in executive session.
Miles said it was apparent to him those three council members had made up their minds to remove Loughry before the meeting.
"I don't understand how you fire someone without giving reason why," Miles said.
Box said he could not comment on why he voted the way he did, but he said the motion to remove Loughry did not surprise him.
"I knew it was coming up," Box said.
Mertz said he had simply made the motion because he thought it was the right choice, and Box and Dysart happened to agree.
"I just took a shot at what I thought was right," Mertz said.
CONTRACT DISPUTE
Mertz's motion to remove Loughry immediately followed a vote on a proposed addendum to Loughry's 2-year-old employment agreement with the city.
The addendum would have added provisions for the city to extend to Loughry any cost-of-living salary adjustment given to other city employees and for the city to pay 100 percent of health insurance premiums for Loughry and his family. The council voted to deny the addendum, 3-2; Mertz, Box and Dysart voted to deny it.
Those areas of Loughry's contract became a source of contention this summer, Hill said, after Mertz asked why the city was paying for 100 percent of health-insurance premiums for both Loughry and his family, even though the original contract provided for the city to pay the premium only for Loughry's insurance.
Hill said the insurance premiums for Loughry's family and the cost-of-living adjustments were guaranteed to Loughry when the city negotiated his contract in summer 2009, and those items were not specifically outlined in his contract only by error. The city has paid 100 percent of the premiums for Loughry's family's health insurance since he began on the job, Hill said.
Right now, the city pays about $1,088 per month in health insurance premiums for Loughry and his family.
Marcano examined the contract this summer, Hill said, and said it already allowed for Loughry to receive those benefits. At Mertz's request, though, Marcano had prepared an addendum that would specifically list those benefits in the document, Hill said.
At Monday's meeting, Marcano said the proposed addendum was meant to formalize the pay and benefits that Loughry's contract originally "anticipated."
Mertz, though, said Tuesday that former city attorney Patrick Reavey disagreed that the current contract allowed for Loughry to receive those benefits, and the city council had never approved them.
"I was never asked if he could get those benefits," Mertz said.
Reavey, contacted by the Sentinel on Wednesday, said he could not comment on any issues with Loughry's contract as he was bound by attorney-client privilege. He said he prepared Loughry's contract before the council and Hill began negotiations with Loughry, but he was not present for the negotiations or the signing of the contract.
Hill appointed Marcano as city attorney in June, replacing Reavey.
Loughry said that, during his contract negotiations in 2009, he had asked to receive at least the same pay and benefits he had received from the city of Hays, where he had been the assistant city manager. That included the full payment of health insurance premiums for him and his family, as well as any citywide cost-of-living adjustments, he said.
"You have somebody who didn't like the opinion (he) got from our legal counsel, and so tried to go out on (his) own and do something else," Loughry said. "It all resulted in a big, mixed-up mess."
WHAT HAPPENS NOW
In the event Monday's vote is overturned or found invalid, Hill said he had doubts about whether Loughry would be able to continue as city administrator.
"The slap in Mark's face was done," Hill said, "so how effective he will be after that, I don't know."
He also said he was concerned about what would happen with the city's talks with Orscheln Farm & Home about its possible new Basehor store; he fears the vote might make Orscheln executives worry about instability on the city council.
"If I was Orscheln, I'd be weary," Hill said.
Breuer said the vote Monday had demonstrated a divide in the city council.
"It's put the board in chaos," Breuer said. "I'm concerned about the city."
Miles said Loughry had been an "excellent" city administrator, and he was unsure of what would happen if he were removed.
"I still haven't digested it, what the next step is going to be," Miles said. "I guess the three council members that voted to remove Mr. Loughry must have a plan for us."
Dysart and Box both said they were not worried about the city making the transition from Loughry to a new administrator.
"I think we'll just move on," Dysart said.
Box said the city would be better off now.
"I feel like there's changes coming, and changes have got to be made," Box said. "I can say that much."
For Loughry's part, he said he planned to continue living in Basehor, even if he no longer works for the city. If that requires him to change careers, so be it, he said.
"I couldn't think of a better city in the Kansas City metro area to live in," Loughry said.