Pit bosses gear up for biggest barbecue yet
Participants say city's annual contest has maintained family atmosphere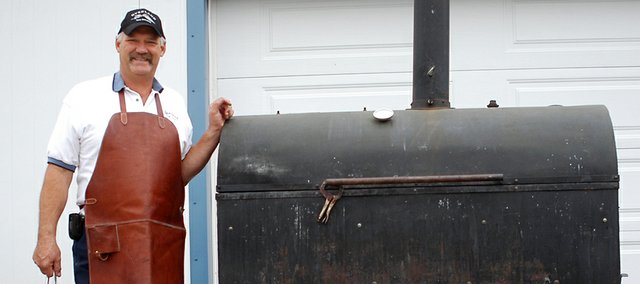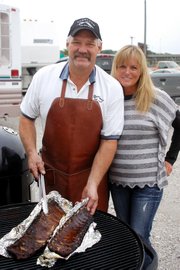 Great Grillers
The 17th annual Shawnee Great Grillers Blues & Barbeque State Championship is Friday and Saturday at Shawnee Town 1929, 11501 W. 57th St. Here are a few highlights for event-goers:
Friday
5 p.m. Grounds open to the public
6 p.m.-10 p.m. Kids Fun Zone open, including moonwalk and slide
6:30 p.m. Classic Revolution plays at the gazebo
Saturday
6 a.m. until sellout Biscuits and gravy served at Trail Café
10 a.m.-3 p.m. Kids Fun Zone open, including moonwalk and slide
Noon-3 p.m. Don't Know Jac performs at the gazebo
11 a.m.-1 p.m. Hy-Vee People's Choice contest. For a $5 participation fee, members of the public can taste an unlimited amount of brisket and vote for their favorite entry.
3:30 p.m. Barbecue awards ceremony
Joe Meyer crafted his first smoker out of a beer keg.
That was some 20 years ago, and he's since upgraded. His current smoker — a hulking black cylinder on wheels, also self-built — is big enough to cook an entire pig on a spit.
Meyer and his wife, Lori Meyer, are the Shawnee residents behind Overland Pig Committee, a staple at the Shawnee Great Grillers Blues & Barbeque State Championship since its inception. The Meyers, who own Overland Tow Service in Merriam, will be back in action this weekend at the biggest Shawnee barbecue yet, with 114 teams expected to fire up grills Friday and Saturday at Shawnee Town 1929, 11501 W. 57th St.
Joe started barbecuing as an assistant of sorts to Overland Tow's previous owner, who had an annual neighborhood pig roast where he and other organizers — who called themselves the pig committee — dug a pit in a different resident's yard each year.
It was more than 20 years ago when Joe got recruited as a judge for the Great Lenexa Barbeque Battle.
"After a couple of years of judging some pretty rank food, he decided he could do better," Lori said.
Joe's Overland Pig Committee won the championship in beef the first year he entered the Lenexa barbecue, he said.
People told him he probably just got lucky, but he won it again the following year. Joe won a ribbon in almost every whole animal competition he entered those first few years and also took second in pork one year at the American Royal Barbecue.
Overland Pig Committee competed once at an invitational in Las Vegas and one year even made the cut for the Jack Daniel's World Championship Invitational Barbecue in Lynchburg, Tenn., although members couldn't get away from work to travel to that contest.
Otherwise, they've stuck to competitions in the Kansas City area.
Shawnee is their favorite, Lori said. Of course, it's as close to home as they get. But they also said organizers have kept it to a manageable size, Shawnee Town 1929 makes a unique backdrop and it's a good experience for teams and members of the public alike.
"They really make it fun and family-oriented," Lori said.
Tonya Lecuru, Shawnee's deputy director of parks and recreation, said that even with 114 teams, there were still about seven teams on the waiting list last week.
Last year the barbecue maxed out at 108 teams, she said. There was space for a few more this year, but only because some of the Shawnee Town buildings were moved to the new farmstead and haven't been replaced yet.
"With the new layout of the town, we had some more space," Lecuru said. "We had so many folks on the wait list, so we decided to try this."
Lori, who teaches aerobics for the city of Shawnee, said having fun with family and friends was one of the biggest reasons the team entered the Shawnee contest year after year. They have a Friday-night party, then Lori usually heads home and Joe stays throughout the night to tend the competition meat, which must be turned in on Saturday.
That's not to say the competition part isn't a driving force.
One team in particular is both friend and foe for Overland Pig Committee. Lori's dad, brother and sister — comprising team And Then There Were Three… — cook next to them every year in Shawnee.
Lori: "It's a friendly competition."
Joe: "We're highly competitive."
Lori: "But respectfully competitive."
Joe, smiling: "We don't speak the next day"
For the most part, Overland Pig Committee sticks to the same recipes and style of cooking.
A recent practice rack of Joe's pork spareribs slid off the bone — but not all at once — with a hint of spice from a dry rub. Sometimes, he said, he adds sauce before turning them in to the judges. But only a touch.
"I want people to judge the meat, not the sauce," he said.
Overland Pig Committee hasn't won big for a few years. In the competition barbecue circuit, while shoe-leather never wins, even top-notch cooking can fall victim to judges who prefer different styles.
But who knows, the Meyers said, maybe this is the year?
"Our approach is, 'God help us, just give us a ribbon!'" Lori laughed.