Loughry to clean out office; police chief asked to be interim administrator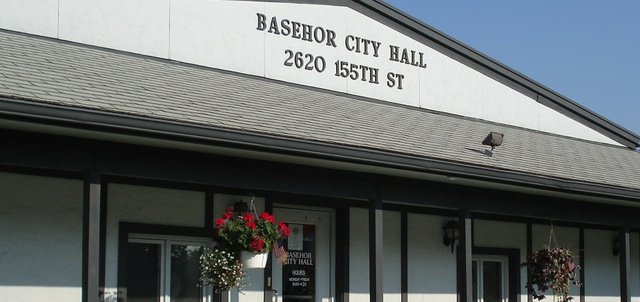 The city of Basehor is moving ahead without former city administrator Mark Loughry, asking Basehor Police Chief Lloyd Martley to serve as an interim replacement.
Basehor Mayor Terry Hill said after a special city council meeting this morning that despite some legal questions surrounding the council's vote to remove Loughry Monday, the members had decided to move ahead with his termination.
Hill said he would visit Loughry later today to collect his city keys and make arrangements to clean out his office. The city will also give Loughry a lump-sum severance payment provided for in his contract, Hill said. The amount of that severance payment was not yet available from the city this morning.
During the meeting, Hill said he would talk to Martley about becoming the interim city administrator. The council took no formal action during the meeting, which was called for the purpose of determining if further action was needed after the council's vote Monday to remove Loughry as administrator. Hill's announcement followed a 15-minute executive session to discuss non-elected personnel and a 10-minute executive session to discuss finding someone to fill the duties of the city administrator.
Meanwhile, Hill said the city would begin searching for a new permanent city administrator "almost immediately," despite some legal uncertainties surrounding the council's 3-2 vote to remove Loughry.
Hill said one purpose of today's special meeting was to warn council members that by letting their vote stand, they may be opening the city up to a lawsuit because of a violation of Loughry's employment contract and a possible conflict with a charter ordinance passed by the city in 1995.
The three council members who voted to remove Loughry — Dennis Mertz, Fred Box and Iris Dysart — said they were not concerned with that possibility, Hill said.
"Council came to a consensus that they didn't want to do anything further," Hill said. "They're going to go with what they already have done."
Loughry's contract states that if the council intends to terminate his employment, the council must provide him a written notice of that intent at least 10 days before taking action, and must also allow him to appear at a hearing to defend himself. The council did not take any of those actions before voting to remove Loughry, Hill said earlier this week.
Hill said those three council members had still not stated a reason for their vote, and he did not understand what the reason might be. This past spring, the council members gave Loughry a positive performance review, he said.
"Nowhere have I seen in the past anything that would warrant a termination," Hill said.
Hill said he'd been contacted by several city residents confused about the vote to remove Loughry, as well.
"I'm aware of a great deal of anger and resentment from a number of community people," Hill said, "questioning how three city council members could have a like mind on an issue as important as a termination with no discussion."
Box said today that he still could not comment on his vote Monday, because it involved a personnel issue. Mertz and Dysart were not immediately available for comment this morning.
If Martley is appointed interim administrator, this will be his second stint in that role. He served as interim administrator for more than two months in 2009, after former administrator Carl Slaugh resigned and before Loughry was hired. He currently holds the title of assistant city administrator, in addition to being the police chief.
Hill said after the meeting that Martley was the council's first choice to take over temporarily, though he wanted to meet with him to offer him the job before the council formally appointed him.
"He already has experience running the city, and he's been here," Hill said.
Martley said he hadn't expected to be asked to fill in as administrator again so soon, but he wanted to do what he could to keep the city moving.
"I'm certainly willing to step up and do what is needed like I did last time," Martley said.
3 p.m. update
Mertz said this afternoon that he was unable to comment on his vote to remove Loughry on Monday except for a statement: "If the citizens of Basehor went to City Hall and requested the open-record letters from the previous city attorney, then they wouldn't have a problem with what was done Monday night."