Back in the saddle: Woman rides again after 60-plus years
Photo Gallery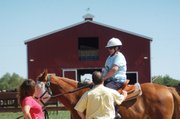 Back in the saddle
Thanks to a wish-granting group, 85-year-old Danila Rock, a resident at the Sweet Life Shawnee, was able to ride a horse again for the first time since she emigrated from Italy, where she rode daily in her youth. Relatives joined her Sept. 20, 2011, at New Horizon Ranch in Rantoul.
RANTOUL — Danila Rock didn't vice-grip the saddle horn with both hands, or sway like a rag-doll when the horse started moving.
No, she had done this before.
Even though it had been more than 60 years since Rock, an 85-year-old resident of the Sweet Life in Shawnee, rode a horse as a girl in Italy, the memories seemed to come right back last week when she climbed atop a 15-year-old gelding named Tooie at New Horizon Ranch.
The Sweet Life, 11400 W. 65th St., offers Alzheimer's and dementia care options for seniors. Rock previously lived in Kansas City, Kan., with her husband, who died last fall.
Cindy Gardner, a life enrichment coordinator at the Sweet Life, recalls talking to Rock shortly after she moved in earlier this year.
Gardner teared up as she described how Rock's eyes sparkled when she talked about riding her horse growing up in Italy.
Rock told Gardner she wished she could have ridden just one more time.
Gardner had an idea — Jeremy Bloom's Wish of a Lifetime Program — and set to work.
On Sept. 20, after New Horizon staff helped her clamber into the saddle from a raised platform, Rock grabbed the reins, sat up straight and beamed.
New Horizon CEO Brian Miller, volunteer Lynn Riddle of Shawnee and riding instructor Ronda Wooden of Paola flanked Rock as she and Tooie circled the corral, waving to a group of relatives each time she passed the gate. She only started to lean after tiring toward the end of her ride.
Wooden marveled at Rock's ability to get back on a horse after so many years.
"It's just inspiring and courageous," Wooden said. "She just relaxed and settled right in and followed the horse's motion."
Back in the barn, Rock talked to Tooie and petted his face, telling him over and over what a nice horse he was, her Italian accent still prominent.
"It was fun riding that horse," she told a relative. "It's been a long time since I've been on a horse — at first I was scared."
Rock still remembers her horse in Italy, where she lived in a country village until moving to the United States after her wedding in 1950. It was a "real nice" horse, was red with white feet, and Rock called her "Pupa," an Italian term for baby girl.
Back then, she rode a lot.
"All the time," Rock said. "Every day, sometimes the whole day."
A relative asked, didn't she have to ride the horse not just for pleasure but on errands, too?
"Yeah," Rock said, "but to me, it was fun."
Jeremy Bloom, a former Olympic skier and professional football player, launched his nonprofit organization in 2008 in honor of his own grandmother, and its website bears the slogan, "Give back to those that gave so much to us." Brookdale Senior Living, parent company of the Sweet Life, is a major sponsor.
Miller said a Wish of a Lifetime representative contacted him about helping Rock ride again, and he knew it would be a good fit for New Horizon, a therapeutic riding center.
"Our mission is enriching lives through equine-assisted activities," Miller said. "That's why we're here."