Basehor-Linwood soccer defeats
THS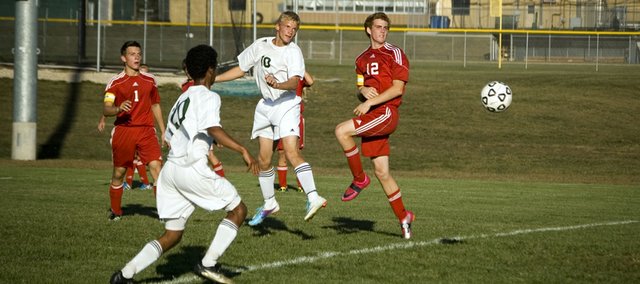 Photo Gallery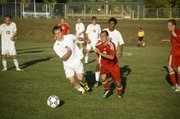 Basehor-Linwood soccer 2, Tonganoxie 1
Basehor-Linwood High's soccer team knocked off Tonganoxie, 2-1, Wednesday at BLHS.
The Basehor-Linwood High soccer team held Tonganoxie in check in the second half Wednesday to beat its visiting rivals, 2-1, at BLHS.
The match was tied at the half, 1-1, before the Bobcats broke through with the decisive goal in the 66th minute.
The Chieftains were attempting to move the ball out of their half of the field when the Basehor defense took it away deep in THS territory and sent the ball into open space in front of the Tonganoxie goal. BLHS junior Zach Sawalich hustled to just barely get a touch on it and slipped it past sliding Chieftains goalkeeper Keaton Truesdell and into the bottom left corner.
THS (5-5-1) had four chances to tie things up again in the final 14 minutes. Senior Joseph Parrino put a shot a couple yards wide right in the 68th minute. Less than two minutes later, junior Matt Saathoff powered a hard shot inside the box at Basehor goalkeeper Russell Clark, who knocked it away.
Saathoff got two more good looks in the following minutes. First, on a free kick from about 23 yards out, his shot was deflected and missed wide right. Then, in the 73rd minute, he received a pass at the top of the box, turned and fired from 19 yards out and got too much leg on it, sending it high over the goal.
The Bobcats struck first in the victory after losing their previous two meetings with Tonganoxie. BLHS took a 1-0 lead in the 20th minute on a corner kick. Gage Zumbrunn sent the ball out in front of the net as a few Basehor players crashed and junior Lane Young found the ball and quickly pushed it into the right half of the net.
The Chieftains scored their lone goal in the 40th minute, just before the half. Saathoff beat Clark to a loose ball roughly 15 yards in front of the goal and chipped it over the keeper for a tying score.
Tonganoxie finished with one more shot (13) than BLHS (12) in the loss, but only six of those were on goal and Clark turned five of them away. His counterpart Truesdell finished with six saves against the Bobcats' eight shots on goal.