BHS

runners battle top area teams at Rim Rock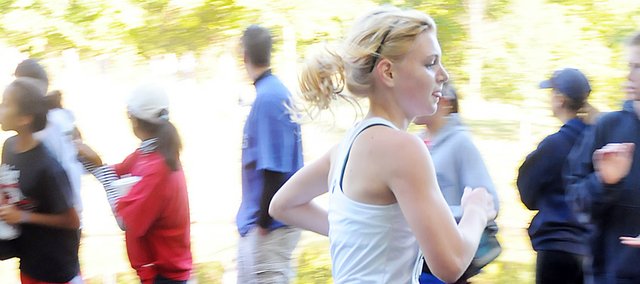 Baldwin High School's cross country teams battled some of the best teams in the state and in Missouri at the Rim Rock Classic on Saturday.
The Bulldogs compete in the top division, which is the gold, every year at Rim Rock. Many schools similar in size to Baldwin compete in the crimson or blue divisions, but coach Mike Spielman wants his runners to compete against the best of the best from the area.
"We like to go in there and go against the best teams around," Spielman said. "It's always fun to run against some of these top teams. If some of those teams or runners go on to do something great, our kids can say they ran against them.
"It's good for us to get in there and compete," he said. "We're not going to finish up front. There are lots of great runners here from several states. Getting in there, running in packs and trying to beat people is what it's all about."
The Bulldogs enjoyed the competition and the cool fall temperatures.
"The weather was nearly perfect, but that was the most competition I've ever seen in a race," senior Brian Wright said.
Baldwin's lone medalist from the meet was sophomore Libby Verhaeghe. She finished 10th in the junior varsity race in a time of 17:07.7.
"She did a great job of getting in the top 10 of that JV race," Spielman said. "She had a great race and the medals shows that."
Senior Elizabeth Sigvaldson nearly medaled in the same race as she finished 28th. Sigvaldson and Verhaeghe helped the BHS junior varsity girls' squad place fifth as a team.
In the varsity races, the BHS girls finished 14th, while the boys place 23rd as a team. Both squads beat several Class 5A and 6A teams at the meet.
"I thought we did a really nice job considering we faced some tough, tough competition," Spielman said. "There were a lot of runners and it's a tough course, but we did a really nice job of responding to all of that.
"Our times were really good," he said. "I thought, for the most part, the course was about 30 seconds slower than what it was at our course the week before. Some of them ran right at those times, so that's a really good sign."
Sophomore Ethan Hartzell was one spot from earning a medal at the prestigious cross country meet. He finished 26th in a time of 16:31.1.
"Tony (Weiss) got fourth with a 16:30 a few years ago," Wright said. "After that, 16:30 isn't looking so hot anymore."
Wright was four spots behind Hartzell. He finished the 5-kilometer course in a time of 16:34.9. It was the first time he's finished the meet and only the second time he's finished the course. The other time was at the Frontier League meet last fall.
"It was nice to finish the meet," Wright said. "Both times I've finished the course, I've ran with Ethan and it's been good experiences."
Senior Tosh Mihesuah finished 88th in the race. His time of 17:12 would have been a personal best if he didn't shatter his old record at the Bulldogs' home meet on Sept. 17.
On the girls' side, sophomore Katie Jones and senior Carol Whaley continue to lead the team. Jones finished 35th in a time of 16:17.9, while Whaley placed 49th as she ran 16:27.8.
Senior Abi Hartzell (8), junior Kaitlyn Barnes (91), junior Sienna Durr (108) and sophomore Hannah Hutton (115) rounded out the Bulldogs' lineup. There were 186 runners in the race.
"We were a bit more spread out than usual," Spielman said. "But if Libby would have been in there, she would have been our fourth or fifth runner. We just have to keep getting stronger on the girls' side. We have a great pack and numbers, but I don't think we're quite running our best with everybody yet. If we get to that, we'll be a lot better."
Baldwin will host the Community America Bank Invitational on Saturday at the Baldwin City Municipal Golf Course. The meet with start at 8:30 a.m. with four junior high races. The varsity boys will begin at 9:30 a.m. with the varsity girls starting at 10 a.m. The JV boys and girls will begin at 10:30 and 11 a.m.
"This week is going to be really tough," Spielman said. "Last year's 4A, 5A and 6A boys state champs are going to be at the meet. Some of the top girls teams will be there, too. We've got some of the top teams in the state coming to Baldwin City this weekend."