Bobcats blow past Braves on homecoming
Murphy sets
BLHS

 single-game passing record in 69-23 victory
Colin Murphy made throwing the ball look easy Friday night as the Basehor-Linwood quarterback broke his own school record for yards in a game against Bonner Springs.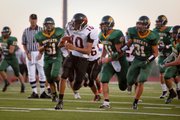 Murphy completed 20 of 27 passes for 385 yards, breaking a single-game passing record that he had set last season against Piper.
The performance was part of a Bobcat effort on offense that netted more than 600 yards and propelled Basehor-Linwood to a 69-23 victory.
Yes, it was almost a perfect homecoming for the Bobcats, which included offensive lineman Trevor Hickman being named king alongside homecoming queen Olivia Cowan.
Halftime presented its usual quandary for coach Steve Hopkins.
He entered the game wondering how they would effectively make halftime adjustments. Most of the homecoming candidates were football players and would be participating in the halftime festivities. Initially, his plan was that he might have to have an assistant coach out there tell them what adjustments were made in the locker room.
Luckily for Hopkins, how he handled this decision wasn't pivotal to the outcome of the game. Basehor-Linwood led 43-13 at halftime on the heels of a 36-point second quarter.
After the game, Bonner Springs coach Lucas Aslin said the Bobcats were a dominant team.
"They are bigger, stronger and faster," Aslin said. "They were way better than us tonight."
The game looked to be competitive early. BLHS scored first on a pass from Murphy to Ben Johnson. Bonner Springs answered with a 29-yard touchdown run by J.J. Jackson and tied the game at 7-7.
Once the second quarter began, however, the floodgates opened.
Murphy threw for about 300 yards, dissecting the Braves' secondary with passes to a pair of 6-foot-6 receivers in twin brother Ryan Murphy and Johnson. Colin Murphy also threw numerous passes underneath to slot receivers and running backs.
Johnson had 127 yards and two touchdown receptions by halftime. He finished the game with nine catches for 185 yards and three touchdowns. Johnson benefited from single coverage as a result of the double teams that Ryan Murphy was attracting. Meanwhile, Ryan Murphy collected 104 receiving yards despite being heavily covered.
The Bobcats scored early in the second quarter when Drew Potter rushed in for a 3-yard touchdown. The score was set up by a 35-yard reception by Dalton Mellies.
"I felt like after that screen play, that allowed us to relax on offense and get going," Hopkins said.
On defense, Basehor-Linwood asserted itself in the quarter. The Bobcats forced two plays for loss and took over on the punt.
With the ball back, Colin Murphy connected with Johnson for a pair of passes on the four-play, 73-yard drive, which included a 24-yard touchdown pass. The Murphy twins connected for the 2-point conversion.
Basehor-Linwood's defense held again on the next drive. With the ball back, Colin Murphy threw to Johnson underneath for a play that resulted in a 56-yard pass play. After catching the ball, Johnson rumbled down to the 24-yard-line. On the next play, Jesse Hiss ran for a 22-yard gain. Colin Murphy punched in the touchdown from the 2-yard line. On a fake extra point, Zac Hevel hit Caleb Hiss for the extra point.
Hiss later scored another touchdown on a 6-yard run.
Bonner Springs put together its best drive of the game late in the second quarter. Jordan Jackson connected with Stevie Johnson for a 2-yard touchdown. The extra point attempt failed.
The Bobcats scored again when Colin Murphy rushed in for a 38-yard touchdown. The extra point attempt was good, and the lead grew to 43-13. From there, the Bobcats were on cruise control.
Basehor-Linwood's defense was stout throughout the game. Johnson recorded seven tackles. Hiss and Colten Stevens each had six tackles to lead the defensive effort. The Bobcats also had seven tackles for loss in the game.
Bonner Springs rushed for 179 yards on 29 carries, mainly with J.J. Jackson who scored three touchdowns. Quarterback Jordan Jackson — filling in for the injured Jourdaine Smallwood — completed 6 of 14 passes for 84 yards.
Basehor-Linwood (4-0) next plays at 7 p.m. Friday at Turner. Bonner Springs (1-3) plays at 7 p.m. Friday at home against Tonganoxie.
Basehor-Linwood and Mill Valley are the last remaining unbeatens in the Kaw Valley League. The Bobcats and Jaguars square off Oct. 7 in a game that likely will determine the league championship.