Basehor-Linwood softball looking to settle in after 2-2 start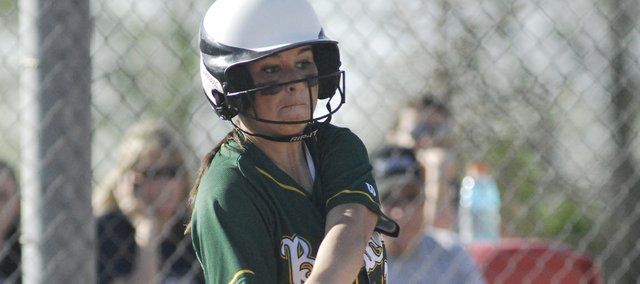 SHAWNEE – Standing along the third baseline, Basehor-Linwood softball coach Susan Mayberry piped in during each at-bat, game on the line and a chance to split Monday's doubleheader at Mill Valley.
Down 4-0 after losing an error-prone opener, 4-1, Allison Kasick smacked a double to left field. All game she had been a force to reckon with at the plate, scoring the Bobcats' lone run off a home run to center in the opener.
"It felt gone," she would tell team mates back in the dugout during that first game as she paced and smiled.
Now the top of the seventh in the doubleheader's final leg, Kasick was on second and Mayberry was cupping her hands around her mouth to help carry her voice to home plate, where Candice Jennings prepared for her at-bat.
"Be a gamer! Be a gamer!" Mayberry said.
Moments later, Jennings grounded out but advanced Kasick to third.
"Get tired of it and do something about it!" Mayberry shouted as Kayleigh Schoenfelder took the plate.
Nearly hitting into a game-ending double play, Schoenfelder reached first by a hair and Kasick came home, each leaving the Mill Valley section in stunned silence and the Bobcats dugout a chance to believe.
"I believe it, you have to believe it," Mayberry shouted when Kortney Rist followed.
But Lexi Myers, in for Mill Valley senior Jillian Jobe, who surrendered just one earned run in more than one full game of pitching, retired Rist on a called third strike. The game would be over within the next at-bat, after Brooke Redmond's single bounced and struck Schoenfelder as she tried to advance to second base.
The sweep sent the Bobcats to 2-2 to start the season. Last week, Redmond pitched a no-hitter against Blue Valley North as the Bobcats began the year with a 2-0 sweep.
"Brooke doesn't look at it as any- thing," Mayberry said. "We're such a team-oriented club, we don't keep a record book. All we care about is the final score."
Still, entering Monday, the senior had the attention of her team's league foes.
"She's a great pitcher," Mill Valley coach Sarah Haub said. "She moves the ball a lot and puts it outside and up a lot. I told the girls to only hit what they know they can hit."
While Redmond looked sharp in dispatching the Jaguars (2-0) early, Haub said she knew her team could come around and start connecting on her pitches. That, and a string of errors, helped lead to four runs in the first game. Up to that point, Jobe and Redmond were engaged in a pitcher's duel heading into the bottom of the third.
Kelli Spring crushed a triple to center to score the Jaguars' first two runs. Later, in the bottom of the fifth, the Bobcats surrendered an inside-the park home run to Spring after a routine throw to first from Redmond escaped the grasp of Kasick and rolled up the first baseline at a brisk clip before settling in a nook in right field.
"You've got to help her out," Mayberry said of the Bobcats' defense around Redmond. "She battled and battled and fought. But the errors killed us."
All four of the Jaguars' runs in the second game came in the bottom of the sixth. Mill Valley broke open a scoreless game after Taylor Brunson walked, and Abby Ford safely bunted after the ball slipped out of the grasp of an infielder.
With two on and one out, Kilee Nolen drove in two with a late double.
"We weren't being game smart at all," Mayberry said.
The Bobcats continue on the road for their next contest at 4 p.m. on Thursday, April 5 against Silver Lake.
One thing Mayberry said hasn't been
lacking in this year's clubhouse is intensity, a trait she said can produce a strong desire to win, but also lead to mistakes.
"They want it so badly that they sometimes need to slow down and take it a lit- tle bit at a time," Mayberry said. "They need to up their game, that's for sure. They need to up their game."