Basehor
VFW

Post dinner to raise funds for fifth-graders' wreath project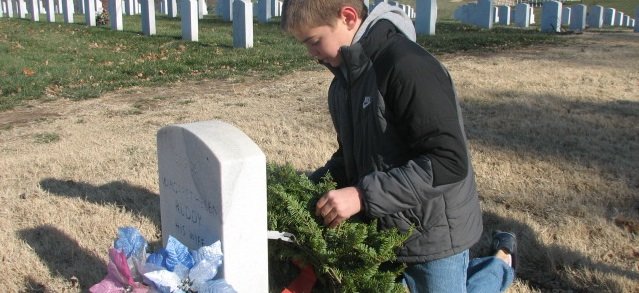 Spaghetti fundraiser
• 6 p.m. Friday, April 13
• Basehor VFW Post, 2806 N. 155th St.
• $7 for all-you-can-eat spaghetti
• Proceeds go toward BIS fifth-graders' Wreaths Across America effort
A little less than a year since Michelle Ablard's students at Basehor Intermediate School presented the Basehor VFW Post with about $700 to help keep them from losing their building, VFW members are planning to raise money for a gift of their own.
But don't call it payback, Phil Jenkins says.
"We want to help them like they helped us," said Jenkins, the post's senior vice commander.
That help will come in the form of a spaghetti dinner fundraiser at 6 p.m. on Friday, April 13. Proceeds will help BIS fifth-graders buy wreaths to place on veterans' graves in December as part of a national Wreaths Across America event.
"We've always given a donation," Jenkins said. "But this year we wanted to do a little bit more, because of what the kids did last year."
Last May, after post members told the Sentinel they were at risk of falling short on mortgage payments for their building at 2806 N. 155th St., Ablard's students got to work putting together a bake sale. After Ablard invited six veterans from the post to the school — telling them she wanted help with a unit on the U.S. Constitution — her students surprised them with about $700 they'd raised to help them pay the bills.
What the gift from the children meant to the veterans, Jenkins said, is difficult to put into words.
"It's hard for me to understand," Jenkins said. "It's hard for me to believe. Fifth-graders? Come on."
Their gesture didn't come out of nowhere, though. VFW Post members have been forging a connection with Basehor-area fifth-graders for about five years now by visiting the school to relate their experiences serving in the military, as part of a unit Ablard teaches between Sept. 11 and Veterans Day each year.
"I think it's a bond they'll carry with them for a long time," Ablard said of the students who've gone through the unit.
Around Veterans Day, the BIS fifth-graders then move on to another patriotism-centered project: Wreaths Across America. The students raise money to purchase holiday wreaths, which they place on veterans' graves during an annual December event at Leavenworth National Cemetery.
Last year, students and staff from BIS and Basehor Elementary School (which includes students in kindergarten through second grade in the same attendance area) raised about $3,700, enough to pay for 370 of the 800 wreaths laid at the Leavenworth event.
With extra help this year from the VFW Post, Ablard said, this year's push could be even bigger.
"It's going to be a great start," she said.
About a year after members asked for help from the community, finances are still tight at the VFW Post, Jenkins said.
"We're holding our head above water," Jenkins said. "We're doing OK."