BLHS

's McBride recognized as area's top hoops coach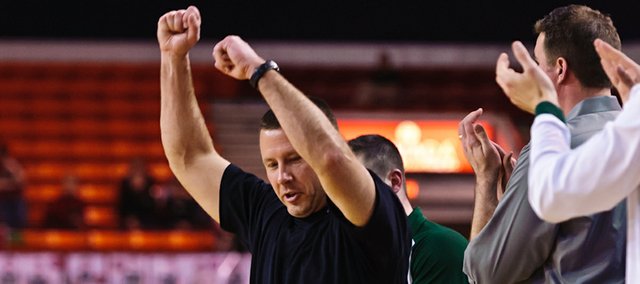 Awards Banquet Saturday
KCKPreps.com will have its annual awards banquet at 10 a.m. Saturday inside Legends Theatre. Student athletes and coaches will be recognized from area schools, including Basehor- Linwood and Bonner Springs.
In the hours before tip-off of the 4A boys basketball state championship game, Basehor-Linwood coach Mike McBride would forgo a traditional pre-game walkthrough, instead gathering his team in the conference room of its Salina hotel.
There, he would draw up his kids' game plan, the strategy that, ultimately, earned the Bobcats their second state title in four seasons and a chance to be talked about long after the fact.
Now, after his eighth season as Basehor-Linwood head coach, McBride is being honored as the Kansas City metro area's finest. At 6:30 p.m. on Thursday at Shawnee Mission South High School in Overland Park, 5800 West 107th St., McBride will receive the Greater Kansas City Basketball Association's Eddie Ryan Award, an honor presented to the best boys basketball coach in the area since 1966.
Senior Colin Murphy will play in the Hy-Vee/Pepsi Challenge All-Star game on Friday, upon completion of the 6 p.m. girls game.
McBride receives the award one year after he finished an 18-4 campaign in which the Bobcats fell short of state and he fell short of his own expectations.
"I was down on myself last year," McBride said. "I picked up the pieces, figured out what we needed to do and told the kids I was going back to the old coach. I'd stop ranting and raving on the sideline. They knew I was there and cared about them."
The Bobcats began the 2011-12 season with extra attention as twins Colin and Ryan Murphy suited up for their senior seasons hungry to lead a title team of their own.
As much as anything, the team's three losses helps tell the story of this year's team. After the Bobcats' 63-59 loss to Topeka Hayden in the fourth game of the season, the seniors apologized and said they'd never play that badly again.
After the Bobcats shot 30 percent from the field in a Jan. 21 loss to Ottawa — their worst shooting performance in a season in which they shot north of 50 percent on the year — McBride knew he needed to completely change his team's offense.
And in the next game, when that new offense took Lansing to the wire in a controversial 59-58 loss, Colin Murphy told the locker room that that's how the ball rolls sometimes in high school varsity basketball.
Despite two straight home losses, McBride stood outside his locker room and felt confident saying that he had a championship team. Of course, you know the rest. They wouldn't lose again, avenging all three of those losses along the way.
McBride said he differs from a lot of high school coaches in that he wants his program to have a system that fits his kids and not vice versa. He told them as much in the locker room after their title win, that he wasn't afraid to change things up for them, and that he didn't fear failure.
He'll have to change things up yet again with the graduation of the Murphy twins, and the presence of junior Ben Johnson in the post, surrounded by a talented group of guards who broke out in the tournament.
"People are either going to be pleasantly surprised or not happy, because we've got a lot of good kids coming back," McBride said.
In the end, much like this year's championship team, success will take a community effort.
"As long as parents in the community keep buying in, we'll never have a bad team," McBride said.