Cities, county receive first casino revenue distributions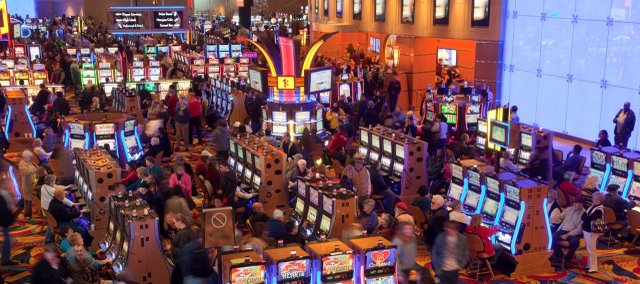 The Unified Government of Wyandotte County and Kansas City, Kan., recently announced it has received its initial distribution of revenues from the Hollywood Casino at Kansas Speedway.
The casino opened Feb. 3, and here's the first month's distribution:
• $70,810.70 to Bonner Springs.
• $44,837.56 to Edwardsville.
• $337,944.79 to the Unified Government of Kansas City, Kan., and Wyandotte County.
The revenue distributions are based on a 2007 agreement that was forged after the state and local voters approved gaming. The agreement was reached before any casino proposals had been submitted.
"This is a historic day for Wyandotte County," Bonner mayor Clausie Smith said in a news release. "I doubt that you will find this level of cooperation anywhere else."
Edwardsville Mayor John "Tiny" McTaggart agreed.
"We are fortunate that the mayors representing the three cities in the county supported cooperation versus competition in bringing first-class gaming to our community," he said in the release.
The state receives 22 percent of net gaming revenues, which is the amount wagered minus prizes paid from the state-owned casino. By law, 3 percent goes to local governments in the county where a state-owned casino is operated.
Half of that 3 percent goes to the county.
The 2007 agreement calls for the other 1.5 percent from Hollywood Casino to be split this way:
• Kansas City, Kan., receives 0.75 percent.
• The other 0.75 percent is shared by Bonner Springs and Edwardsville. Bonner Springs, which is bigger, receives about 63 percent of those funds, and Edwardsville receives 37 percent.
The Unified Government of Wyandotte County and Kansas City, Kan., projects it will receive $3.7 million in casino revenues in 2012: $2.3 million for the county, $1.1 million for the Kansas City, Kan., share, and another $300,000 in a contribution the county worked out with the casino as part of its development agreement but which will go to a charitable cause.
If the revenues from the first month were repeated monthly for the rest of 2012, the Unified Government would hit its projections, receiving $3,717,397.
Michael Webb, city administrator, had estimated Edwardsville would receive at least $209,000 in 2012, but he was estimating for only six months' worth of revenues. If February's numbers were repeated monthly for the rest of the year, Edwardsville would receive more than twice that estimate: $493,213.
Repeated monthly for the rest of the year, Bonner's revenues would total $778,918.
Both Bonner and Edwardsville opted not to include casino revenues in their 2012 budgets.
Look for more information about how Bonner and Edwardsville will decide how to use these funds in next week's edition of The Chieftain.