Committee likely to recommend no additional funding for Leavenworth County animal control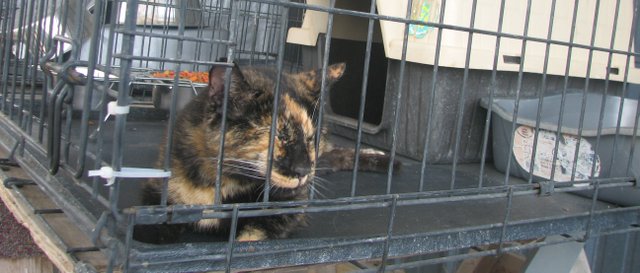 A group tasked with studying the stray-pet problem in rural Leavenworth County has emerged with the conclusion that there may not be much of a problem at all — or at least little evidence of one.
And though one local animal advocate takes issue with the committee's finding, county administrator Patrick Hurley said he would likely pass on a recommendation to county commissioners that they decline to provide funding for animal-control services in their 2013 budget.
"We just did not find data that indicated there was a need for the Sheriff's Office to be beefed up," Hurley said.
But Leavenworth County Humane Society president Crystal Swann Blackdeer, a member of the committee along with Hurley, said she was convinced that stray or abandoned pets presented a major problem in rural parts of the county.
"I'm not sure we really accomplished the panel's mission," Blackdeer said.
Sheriff's officials asked county commissioners last summer for about $70,000 to hire two part-time animal control officers, saying the department was receiving too many calls regarding stray animals that deputies weren't equipped to handle. Because of a lack of resources, Sheriff's officers don't pick up stray pets unless they're presenting a safety issue.
But during January and February of this year, while Sheriff's officials were tracking such calls for the purposes of the animal-control committee, they apparently dropped off in frequency. According to a report from undersheriff Ron Cranor, the department received 59 animal-related calls during those months, on pace for about 360 for the year. During the past five years, that number has ranged between about 540 and 670.
Only 20 of those calls related to dogs, and none had to do with cats, while 24 were reporting problems with farm animals.
Hurley presented that information to committee members at the group's final meeting Wednesday, saying he didn't believe the data supported the funding of animal-control services, he said. The committee arrived at a similar consensus, he said.
Blackdeer, though, said the committee — which consisted of county officials and volunteers — had not dug into what those numbers really mean. She saw the statistics for the first time at Wednesday's meeting, she said.
"Nobody really had a chance to digest it and compare it to other numbers we'd been given in the past," Blackdeer said.
She said the Humane Society — which does not have a shelter and is not licensed to pick up stray animals —received calls from about three residents per week about stray or abandoned pets in rural Leavenworth County. She guessed that perhaps residents had stopped calling the Sheriff's Office about strays because they were aware the department was not able to pick them up.
Cranor acknowledged that could have something to do with the drop-off in calls. In any case, the problem is difficult to measure, he said.
"All of this is supposition," Cranor said. "You don't know what the facts are."
And supposition is not enough to warrant additional funding from taxpayers for an animal-control force, Hurley said.
"You could speculate on anything," Hurley said. "What I tried to do is look at actual data."
County Commissioner John Flower, too, said he would be hesitant to commit funds to animal control without demonstration of a widespread problem, though he said he understood the concerns of those who've encountered stray or abandoned animals.
"It's very real to the person who experiences it at the time," Flower said, "but is it repeated enough to ask 75,000 citizens to spend more money to address the issue?"
Blackdeer plans to begin keeping records on the complaints she receives about strays in order to provide some sort of statistical evidence, she said, and she said she would encourage residents to call the Sheriff's Office to demonstrate the need for services, as well. But quantifying the problem is going to be difficult, she said.
"I think until someone starts picking them up and taking responsibility, it's going to be difficult to really understand how big of a problem it is," Blackdeer said.
She said she fears that commissioners won't put money toward the problem until something tragic — a rabies infection or a traffic accident resulting from a stray animal — captures their attention. Flower, though, said that a county animal-control force is not off the table. He said he would even consider providing funding in the 2013 budget to investigate the matter further.
"The answer's not 'No,' " Flower said. "It's just 'Not now.' "