Basehor-Linwood softball coach among participants in
KU

Hospital heart health program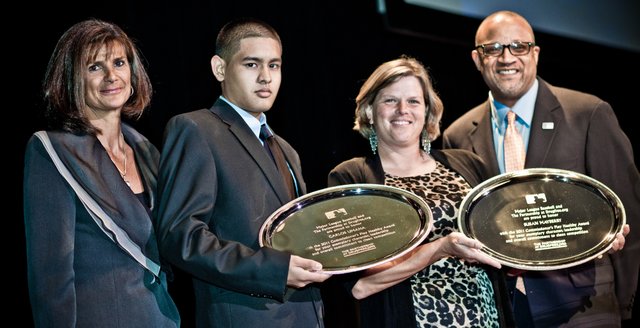 Five years ago, Kansas University Hospital started a unique program called A Change of Heart to inspire heart-healthy living.
The program provides a heart assessment and one-on-one counseling on how to improve the factors that put people at risk for heart disease — America's No. 1 killer.
"This program gives you the education and the tools to bring your numbers down," said Karin Morgan, a registered nurse and program coordinator. "You can go just about anywhere and stick your finger and then you might get a card that says it's normal. Well, what does that mean?"
Morgan said it's the education component that doctors often don't have the time to provide, and that's where the program comes into play.
Since its inception, the program has screened about 930 people — mostly women. Of those screened, 90 percent have been identified as having at least one risk factor for heart disease. More than 75 percent had multiple factors.
"We've had women who have come here in the morning and they were in the Cath lab the next day from heart disease," Morgan said. "I think a lot of people don't get their numbers checked because they are in denial or they don't think anything is wrong or they go to the doctor occasionally."
She said they've seen people who had no idea they had diabetes or high cholesterol levels. "A lot of people look at their BMI and go, 'Huh?'" Morgan said. "Many people are surprised at their risk levels."
KU's program costs $60 and takes 90 minutes to complete and is available for anyone who is 18 and older. "It's personalized and same-day results," Morgan said. She hopes to soon be able to offer scholarships to those who can't afford it.
Teacher initiative
In December 2010, the program received an anonymous donation to start a Teacher Change of Heart program. The goal is for the teachers to take the education back into their classrooms, and then hopefully the students will share it with their families.
About 40 teachers participated in the program last year and Morgan hopes 100 will complete it this year. They want to reach out to adolescents because they are the group most likely to start smoking, which is a huge risk factor for heart disease. Additionally, obesity and diabetes are on the rise among children — two more risk factors.
Last August, Susan Mayberry, 47, a health and physical education teacher and softball coach at Basehor-Linwood High School, completed the program. She said her family history puts her at risk for heart disease.
Mayberry said the heart assessment and education forced her to revisit the factors that put her at risk, and one of those factors was her poor diet. She said the main reasons for her unhealthy habits were: vending machines at school, Sonic Drive-In on the way to and from work, and potato chips.
"They are easy. If you come home late from practice and you're tired, you just eat the first thing that's easy and you can grab," she said.
According to the heart assessment, Mayberry was prone to have a heart episode within 10 years. "I was in the at-risk category," she said.
The program's nurses provided a lot of tips that she's put into place, including taking snacks to school such as nutritious grain bars or little bags of peanuts. She also puts bran flakes and raisins into sandwich-size storage bags on Sunday night, so they are available when she gets home from work during the week. She might have a bag of the mix or a cup of yogurt.
"It's something quick that I can have until I calm down and can think about having a meal. It's about sitting down and eating instead of eating junk," she said, with a laugh.
Mayberry said she's shared her experience with students and has talked to the principal about purchasing target heart rate monitors. She plans to have a cardiologist come to speak during her classes and maybe even show some videos about heart disease. She said two other BLHS teachers went through the program and their students have used pedometers and participated in a Red Wear Day to raise awareness about heart disease.
"My health kids are mostly ninth graders and some 10th-graders and they really do want to know about good choices of eating — far more than probably five years ago," she said. "A lot of their grandparents and parents have had bypass surgeries and we are talking 40-year-old parents."
Now that Mayberry has made some changes in her diet, she would like to have a follow-up assessment to see if her numbers have improved. For now, the KU program is a one-time program, and the nurses encourage participants to follow up with a primary care doctor or cardiologist. But, Mayberry said that doesn't hold her accountable.
"There's not a safety net there to make sure that people follow through and go forward with it," she said.
Program changes
Morgan said the program was meant to be a one-time only screening and education program, but they took Mayberry's comments to heart and are working on adding a one-time follow-up as part of the program. Morgan expects that to occur any day.
It will be just one of several changes that have been made to the program since its inception. In September 2010, they added a research component. If women agree to participate, they will receive a survey at one month, three months, six months and then every year for 20 years. The goal is to track how women are doing. She said participants can see results within four to six weeks if they are truly making changes.
In February, the program moved into an area on the first floor of KU Hospital called the Adelaide C. Ward Women's Heart Health Center. The center was made possible through a donation from the Louis L. and Adelaide C. Ward Foundation.
"There's no greater gift to give someone than a heart assessment," said benefactor Addie Ward.
Because of the additional space, the program recently added a dietitian who is available by appointment to visit clients who go through the program. It also has a resource center.
To make an appointment, call 913-588-1997.
— Health reporter Karrey Britt can be reached at 832-7190. Britt's health blog can be found at WellCommons.com, and follow her at Twitter.com/WellCommons.