Fully in bloom: Spring has sprung earlier than usual thanks to warm temps, gardener says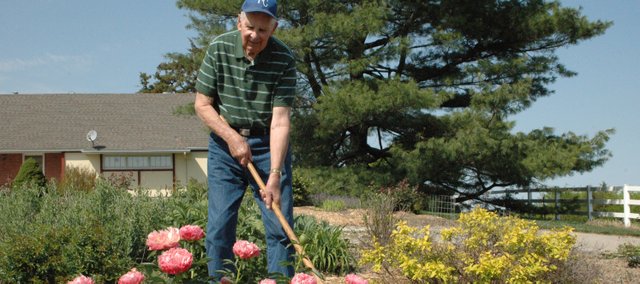 On a hill just southwest of Bonner Springs, vibrant patches of color make it clear that spring has sprung.
The first round of pinks, purples and yellows have nearly come and gone in the sprawling gardens of Darrell and Genevieve Donahue. Darrell has planned out the gardens so that something is almost always blooming, and the blooms appeared a little earlier than usual thanks to this year's unseasonably warm temperatures.
"Everything's way ahead by two or three weeks," Darrell Donahue said. "When it says 80 on the thermometer, up it comes."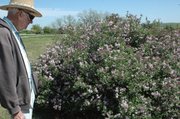 The gardens are Darrell's territory, the result of a decade of building them up. He got his love of gardening from his mother, who was a member of a garden club and got her son involved in the upkeep of her gardens.
"My job was to help plant the garden and to hoe the weeds up, and I loved to do that," Donahue said.
The Donahues bought their 16 acres in 1950, but it would be nearly 50 years before Darrell could create the kind of garden he wanted.
In the mean time, the couple worked and raised their children, and Darrell found other means of satisfying his gardening tendencies. In 1978, he joined the Men's Garden Club of Overland Park. When that group dissolved, he joined the Bonner Springs club.
In 1994, he took the classes necessary to become a Master Gardener through the K-State Extension Offices.
Genevieve said Darrell can at least generally answer just about every gardening question.
"There isn't one question in my years that someone has asked my husband that he can't answer," she said.
"Oh, don't say that," Darrell warned. "Houseplants — I can't tell you anything about houseplants."
But it wasn't until the late 1990s, as he prepared to retire, that Darrell really started expanding his home gardens, which largely surround his house and include a 134-foot by 12-foot area of perennials along his driveway. In the vegetable garden, he grows asparagus and tomatoes and occasionally potatoes, okra and onions.
He's not really sure how many different kinds of plants he has — he knows he has 69 different kinds of roses alone.
"Daylilies, hibiscus, lilacs — you name it, we've got it," he said. "… The idea was to have something blooming all the time."
He has planted early-blooming crocus that will bloom even through the snow in February, and various parts of the garden generally are in bloom through October, when the fall-blooming Aster is the last to show its colors. And Darrell loves lots of color.
"Some things are more spectacular than others, and that's what I like — things that really show," he said.
He's gotten much of his variety thanks to the sharing of plants and care tips between garden club members, which he recommends as a method of growing a garden.
Darrell said he relies on three main tools: a hoe, spray weed killer and sprays that fight diseases and pests. In his experience, the pests to watch for in this area are black spot, scale, aphids, Japanese beetles, grasshoppers and more recently, the European sawfly.
The Master Gardeners are an excellent resource of free, well-informed help, Darrell said, and can help with one basic tip: before planting, gardeners should know their location and their soil type.
"It pays to follow the planting directions," he said. "It's just like anything else. You better know what you're doing before you go spend a lot of money on plants."