New Basehor Elementary principal has spent two decades building roots in community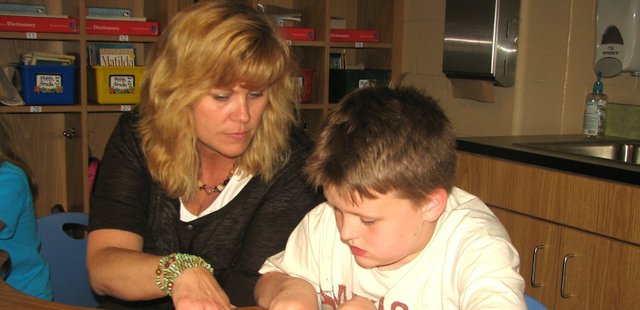 Tiffany Lynch has learned a thing or two about Basehor since 1989.
The newly appointed Basehor Elementary School principal remembers when she attended a job fair at Kansas University. It was 1989, and Lynch soon would graduate from Bethany College in Lindsborg. She says KU students had gobbled up the interview slots with the bigger school districts at the fair, so she asked what other spots were available.
"They said, 'Would you like to interview with Basehor?'" Lynch said. "And I said, 'Where's Basehor?'"
She landed a job. And now, after 23 years of living and teaching in the Basehor community, Lynch said she's ready to take on the leadership role at Basehor Elementary.
She's reminded of her connections to the community and its children each time she runs into a former student at church or the grocery store, she said.
"I always feel like they're my kids," Lynch said, laughing.
Lynch's familiarity with the district and its surrounding community was a big reason district leaders picked her from a pool of more than 60 applicants, Superintendent David Howard said.
"She knows our staff. She knows the building. She knows our parents," Howard said.
Lynch taught third grade at BES for six years after she was hired in 1989, then switched to kindergarten. After 11 years, she returned to a third-grade classroom. In 2010, she moved to the intermediate school, along with the school's third- through fifth-graders.
"I think the fact that I've taught kindergarten and third grade gives me perspective on where they're headed and where they've been," Lynch said.
She earned a master's degree in leadership from Pittsburg State University four years ago, and she has served on a host of district committees and groups.
Beginning in August, Teri Boyd will be principal at the intermediate-school building, instead of both the elementary and intermediate buildings. She said she'd be glad to have Lynch guiding the education of the younger students, and not just because she'd no longer be traveling the mile between the two buildings so much that she has pondered buying a golf cart just for that purpose.
As a teacher, Lynch has focused her energy on reaching all students, Boyd said, whether they're struggling, excelling or somewhere in between. She said parents can expect BES to operate under the same philosophy.
"Tiffany's not a person who teaches just to the middle of the road," Boyd said. "She sees the bigger picture."
Lynch said she hopes her teachers can be creative in planning lessons for the kindergartners through second-graders who attend BES, perhaps with projects that incorporate math, reading, science or other subjects together.
"They have big imaginations at that age," Lynch said.
One such project she and the other BIS third-grade teachers use each year, she said, helps the students learn about economics by inventing their own currency and using it to buy and sell products and services from one another.
Diane Kirk, the BIS secretary, has worked with Lynch for 16 years, and her daughter was a student of Lynch's, as well.
"When you watch her with her students, you can tell she loves what she does," Kirk said.
Lynch said she loves teaching because of the feeling she gets when a students smiles "when the light goes on," but she's ready to move into a leadership role.
And 23 years after she moved to a town she'd never heard of, she's happy to be in Basehor, a town that she says values education.
"I feel like there's a respect for teachers here in this community that sometimes is lacking today," Lynch said.