Bonner Springs' attack too much for young Basehor-Linwood girls soccer squad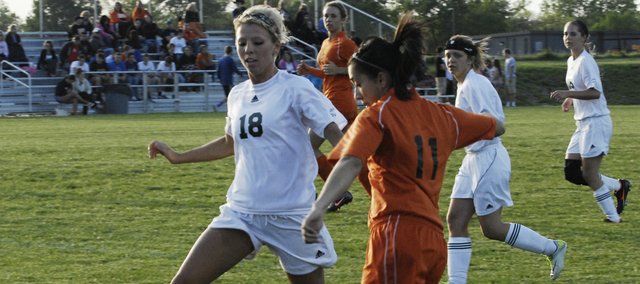 At this point, the Bonner Springs girls soccer team is growing used to seeing opportunities open up on offense.
"We've seen it all season," sophomore Bailey Hightower said.
And with Basehor-Linwood not moving the ball past midfield until 15 minutes into the two teams' match on Tuesday, a world of opportunity widened on the pitch for the Braves.
Bonner Springs (5-3) scored three goals in the first half, two of which within 30 seconds of one another, en route to dispatching the Bobcats (2-6) in Basehor, 4-0.
At the 11:23 mark of the first half, freshman Shelbey Taylor received a dish from sophomore Hannah Hunt and gave the Braves their first score. Less than 30 seconds later, junior defender Haley Hoffine made it 2-0.
"We just worked well up top all game," Hoffine said.
The Braves' potent attack would, however, be dealt a blow when it regained possession after Basehor-Linwood's first attack at the 15-minute mark. Junior defender Skyler Taylor, whom Bonner Springs coach Mike Moulin called one of the team's leading threats, was tangled up as she drove upfield, and collapsed to the ground. Moments later, shrieks could be heard from where she lay.
After several minutes, a motorized cart rolled up and helped Taylor off the field. Though experiencing pain, she eventually got up and walked around on the sideline and did not experience too much swelling, Moulin said afterward. Still, with Taylor out of the picture, the Braves returned to play determined to prove they still packed a punch.
"We wanted to win for her," sophomore Bailey Hightower said. "She always wants the goal when she's out there, and we wanted to give that to her."
Hightower beat the Bobcats' defense to conclude a long attacking possession by firing a shot that hit the back of the net, putting the Braves up 3-0 just before halftime.
In the second half, Moulin again removed senior Yessenia Hernandez from the goal, putting her out on the field and giving sophomore Kennedy Bizzell another chance to gain varsity experience in front of the net.
For its part, Basehor-Linwood is no stranger to making adjustments at goalkeeper, albeit out of necessity. With starting keeper, sophomore Amber Garver, out with an injury, senior Ellen Farris has taken the reigns in her stead.
The adjustment has created a domino effect, coach Derek Mazeitis said, on a relatively green squad — just seven of the program's 28 varsity and junior varsity athletes are upperclassmen.
"We've had the chance to see how different people do in new positions," Mazeitis said.
Mazeitis also adjusted his lineup at the half, moving junior Kara Stephens to the front line of the Bobcats' attack, and sophomore Julie Lough to center-midfield.
Within the first few moments of the second half, the changes already began to show.
Although Bonner Springs nearly added its fourth goal in the opening seconds, the Bobcats were extended a lifeline in the form of a Hunt shot that smacked the crossbar and landed inches before the goal.
With a chance to move the ball upfield, Basehor-Linwood began a string of offensive possessions that well outnumbered its first-half chances in a matter of minutes.
Defensively, the Bobcats proved to be a tough code to crack, with Lough and sophomore Alex Gorman keeping the Braves at bay momentarily.
About 10 minutes into the second half, Stephens fired the first of several shots on goal, giving Bizzell a test Hernandez never saw earlier between the posts.
For her part, Hernandez challenged often, orchestrating her share of one-on-one opportunities with Farris.
But Farris was game, and she met numerous shots head (and torso) on, leaving the goalie's box to meet the Braves' sprints.
Any hope for a miracle dissipated by the 10-minute mark, when Bonner Springs junior Anna Deegan's penalty kick sailed behind Farris for the game's final score.
Bonner Springs returns to the pitch at 6:30 p.m. on Friday when it hosts perennial state-title contender, Bishop Miege.
"It will be a true test for us," Moulin said.
Basehor-Linwood travels to Lansing for a 6 p.m. match on Monday.
Mazeitis has been here before. When as the coach of an upstart program in Platte County, Mo., he saw a group of young girls go on to lay the foundation for future teams.
But now, Mazeitis said, with the next game in which the Bobcats won't be underdogs still a ways off, maintaining a positive mindset has proven to be another challenge for his girls to overcome.
"We're in a tough spot right now," he said.