Convicted sex offender escapes from Lansing
A 59-year-old convicted sex offender escaped early Wednesday from Lansing Correctional Facility.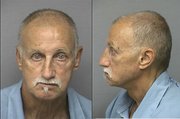 Gary Leslie Furthmyer escaped from his minimum custody job assignment at the facility steam plant, according to corrections officials.
Furthmyer is serving a six- to 25-year sentence for a 1985 conviction on indecent liberties with a child and aggravated failure to appear in Sedgwick County.
He also escaped Department of Corrections custody in 1988 and was returned to custody in 1993. He also served time in Texas and Louisiana before returning to Lansing in 2005 on a parole violation.
Furthmyer is described as a 5-foot-9, 185-pound white male with brown hair and blue eyes. He also has used an alias, Frank Schell.
Anyone with information about Furthmyer is asked to call 911 or Lansing Correctional Facility at 913-727-3235.
The escape currently is being investigated, corrections officials said.