Hundreds cheer Basehor-Linwood basketball team at community assembly for state champions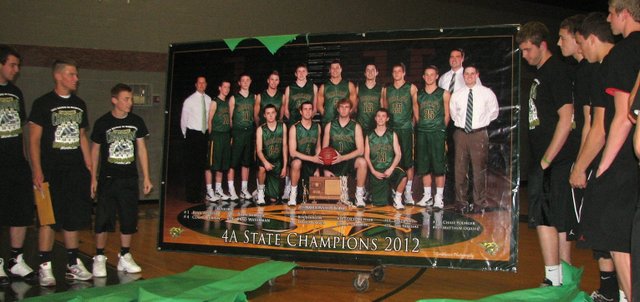 Photo Gallery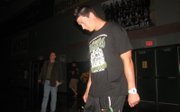 Community assembly for Basehor-Linwood boys basketball team
A few hundred supporters cheered Wednesday night as Basehor-Linwood High School recognized its state champion boys' basketball team with a pep assembly.
But support for the team is nothing new, BLHS athletic director Joe Keeler told the crowd before the team was introduced at the high school gymnasium. In March, fans showed up in force at the team's three state playoff games in Salina on three consecutive days, he said.
"Fans, what can I say?" Keeler said. "You were unbelievable."
In return, he said, those fans got to watch three games "this school and community will never forget."
The crowd showed its gratitude Wednesday with loud cheers for each of the team's players as they were introduced, with music booming, strobe lights flashing and laser lights dotting the floor. They cheered head coach Mike McBride — and his wife, Shelby, whom the team's four seniors presented with a bouquet of flowers in return for the sacrifices she made during the team's title run.
Mike McBride said the community's support of the team played a big role in its success.
"I'll be flat-out honest with you: I give all the credit to you guys," McBride said.
McBride spoke after a video recap of the title run. Following the assembly, the players sat at a long table while children — and a few adults — lined up for autographs.
Brendan Smith, a fifth-grader at Glenwood Ridge Elementary School, smiled as he held a green mini basketball and a copy of the Sentinel's issue with the team's photo on the front, both adorned with signatures from the whole team. His family moved to the area from Shawnee before this school year, he said, and it hadn't taken them long to become fans of the Bobcats.
"They're nice and unselfish," Brendan said.
His favorite player, he said, is junior Ben Johnson. But Ally Irwin, a first-grader at Glenwood Ridge who held an autographed ball, said, "I like them all."
After spending about a half- hour signing autographs, junior Tanner Garver said his hand wasn't tired.
"It's awesome," Garver said. "I feel like a little celebrity."
John Hopper, a BLHS sophomore, said the excitement of the team's run had rippled through the school's halls. When he saw the players introduced with the lights off and the crowd cheering, he said, it brought it all home.
"It just showed all their accomplishments and showed they're actually champions, walking out on stage," Hopper said.