Rarer than gold: Girl Scout plans to earn highest award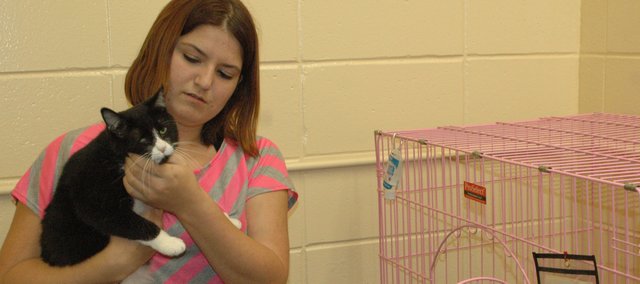 Jenna Hammond credits Girl Scouts with helping her find her passion in life: caring for animals.
"It started out as a badge I needed to earn and turned into a passion. It changed what I want to do with my life," she said.
Now, the Bonner Springs High School freshman is taking the first steps to receive her Gold Award, Girl Scouts' highest achievement. It is the equivalent to the Eagle Scout award in Boy Scouts, but an award that, at least in this area, is even more rare.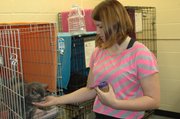 On April 30, Hammond is organizing a reduced-rate spay and neuter day for cats and dogs in Bonner Springs and Edwardsville, the first of two "Journey" projects she must complete before moving on to her Gold Award project.
•••••
Hammond, 15, said she once wanted to be a lawyer when she grew up. But that changed in 2010 when a merit badge required her to volunteer with an animal shelter. Her goal in life was soon altered to becoming a veterinarian.
"Just doing that badge turned into a passion," she said.
She has volunteered with the Bonner Animal Rescue organization for the last two years. When she earned the senior rank in scouts and needed a focus for her Journey and Gold projects, she naturally chose control of the pet population and pet adoption.
Spay and Neuter Day
Monday, April 30
Edwardsville Community Center, 696 S. 3rd St.
Appointments are available for 20 dogs and 30 cats to receive one or more of the following services:
• Dog spay/neuter: $55
• Cat spay/neuter: $30
• Feral cat spay/neuter: $15 (must be in a trap, price includes rabies shot)
• Distemper vaccine: $55
• Bordetella vaccine: $30
• MicroChip: $15
• Edwardsville city pet license: Free to Edwardsville residents
Animals must be brought in a kennel to receive services and must be rabies vaccinated or paying for a rabies shot. They should not eat or drink after 10 p.m. the night before. Reserve a spot by emailing GSCookiechick@yahoo.com or calling 206-376-7603.
She is embarking on her first journey project thanks in part to the help of volunteers with Bonner Animal Rescue, who helped her link up with the Heartland SPCA to provide medical services.
"I've actually been thinking about having a spay and neuter day since I was 13, but now I have the resources and the help I need to do it," she said.
Hammond works as a Juliette, an individually registered scout not connected to a troop. She said there are maybe five other girls at Bonner Springs High School who are still in Girl Scouts, but she knows of no troops in the area for girls at the advanced ranking of senior or ambassador.
She says being in charge of her own projects and advancement has made her more independent.
"It probably does show you another outlook on life, to kind of show you what life is most likely going to be," she said. "It will put you through challenges you probably would have never faced."
•••••
Both the Boy Scouts and Girl Scouts report only a small percentage of those who enter scouts achieve the highest award. In this area, many fewer girls than boys make the effort to earn the award.
The Boy Scouts Heart of America Council covers 19 counties in the Kansas City metropolitan area. Last year, they had 751 Scouts receive their Eagle Awards, said Matt Armstrong, spokesman for the council. The record high was set in 2008, when there were 944 Eagles.
The Girl Scouts of Northeast Kansas and Northwest Missouri council covers twice as many counties at 47, but Gina Garvin, council spokesperson, says this year the council had 117 girls get their Gold Award. And that was a record — usually, it's more like 60.
Garvin said the Girl Scouts tend to start losing girls to other activities as early as fifth and sixth grades, so a scout earning her Gold Award was an "exclusive honor."
"It is a big deal — it's not just easy-breezy," she said.
•••••
Though she must work on her own, Hammond said sticking with scouts was an easy choice. In addition to the life lessons she has learned through scouting, she admits being able to list her accomplishments on resumes and apply for Scout-related scholarships was a big motivator.
"You can get tremendous scholarships for just sticking with Girl Scouts," she said.
For her second Journey project, Hammond wants to do something to address the feral cat population, and for her Gold project, she would like to create a play area for dogs awaiting adoption at Bonner Animal Rescue's new facility.
She hopes to have her Journeys completed by the end of the summer and start her Gold project at the beginning of the school year.
Hammond must complete this project by the end of her senior year in high school. She said he hasn't decided if she will take her time and expand the project or try to get it finished as soon as possible.
"If I can get it done this year, I'll probably be the happiest person in the world," she said.