New Basehor council member Brian Healy knows city is watching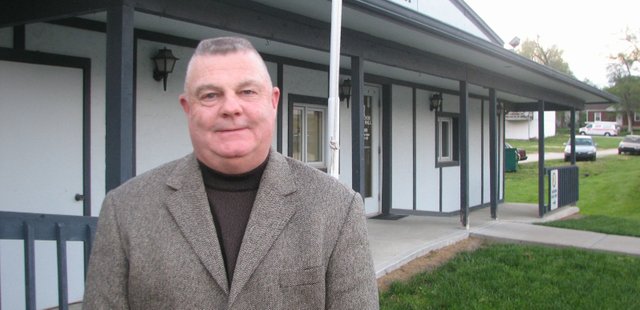 Related document
Editor's note: This is the first of two stories introducing the new Basehor City Council members appointed on Monday. Today's story focuses on Brian Healy. Look for the second story, about Ty Garver, next week on basehorinfo.com.
Brian Healy knows Basehor will be keeping a close eye on its new City Council.
But he welcomes the scrutiny.
Healy, 58, was one of two new members who Mayor David Breuer appointed on Monday to round out the new council after recalls and a resignation earlier this year left it nearly bare.
"Let's don't fool ourselves," Healy said. "Only one of us that sits up there has been elected by the people."
Nearly 30 percent of Basehor voters turned out for February's recall election. Healy heard their "roar," he said.
"I don't have any hidden agendas," Healy said. "I'm about helping this community move forward."
Healy, a California native who was a U.S. Army officer for 20 years and now works as an analyst at the National Simulation Center at Fort Leavenworth, has been a Basehor resident since his subdivision, Cedar Lake Estates, was annexed in 2009.
He earned a political science degree from Seattle University and served on the Student Senate there for two years, and he's long had an interest in government and politics, he said. For about a year he's had his nose in city codes, zoning regulations and plats as a member of the Basehor Planning Commission (along with Vernon J. Fields, who also was appointed as a new council member last month).
Mayor David Breuer said Healy's experience on the Planning Commission would help him get a running start on the council, and an interview showed him to be a good critical thinker.
"He's certainly a big part of long-term planning for this community," Breuer said.
Armed with his Planning Commission experience, Healy said his biggest priority as a council member would be to guide the city's growth, making sure residential areas, business and infrastructure all grow alongside one another. Growth is imminent because of Basehor's location, he said, and getting in front of that growth will be key.
"Not everybody's going to have the same opinion, I understand," Healy said. "But I think everybody would agree that Basehor's got a good future ahead of it."
He said he has a lot of faith in city employees' ability to handle the city's day-to-day operations.
"We should let them do their jobs," Healy said.
In the long term, perhaps when the economy improves, he said he'd like the city to improve its parks and recreation offerings, maybe with the addition of some walking trails. "It does make it a more enjoyable place to live," Healy said.
In any case, he said, he said he planned to work hard and openly to make the city a better place, with the knowledge that Basehor voters will accept nothing less.
"The people are watching," Healy said, "and rightfully so."