New Basehor City Council member Ty Garver says he's looking forward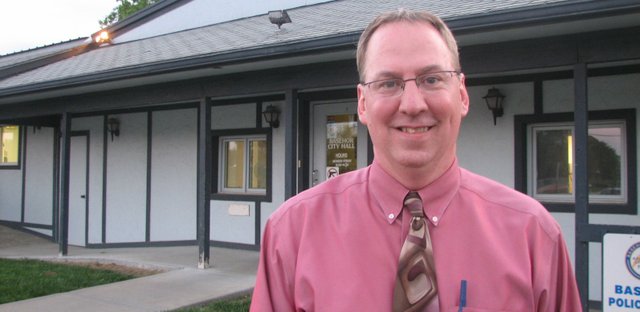 Related document
Editor's note: This is the second of two stories introducing the new Basehor City Council members appointed last week. Today's story focuses on Ty Garver. The first story, about Brian Healy, was published Friday.
Yes, the things that have happened on the Basehor City Council since last fall are what sparked Ty Garver to become more involved in city matters.
But he doesn't want to talk about that right now.
"I'm hoping that the city can maybe not look back into that portion of the city's life, and just look forward," Garver said.
Garver was appointed to the City Council by Mayor David Breuer last week.
In the midst of the city's political turmoil early this year and late last year, Garver said, he received several phone calls from friends who live elsewhere, asking what in the world was going on.
Now it's time for other topics to be on people's minds when they think about Basehor, he said. And, he said, the city's got more than enough positive characteristics to make it an attractive place to be.
"It will sell itself," Garver said.
Garver and his family bought what the city was selling when they moved into town about 10 years ago. He and his wife Amy had grown up in small southwestern Kansas towns, and they wanted a new spot that retained some small-town feel but was also near the Kansas City area, with a strong school district for their three children.
Basehor fit that description perfectly, he said.
"We looked at a lot of towns and a lot of locations," Garver said, "and Basehor's lived up to all our expectations from the beginning."
Garver, 46, is a senior vice president for First National Bank of Kansas in Overland Park, and his wife is assistant principal at Basehor-Linwood Middle School. During his 20 years in the banking industry, he has sat on a slew of boards, business-related and otherwise. He served on the board for the Basehor-Linwood Education Foundation, and until his appointment he was a member of the Basehor Board of Zoning Appeals.
He applied to step up to the City Council when he decided he wanted to do something more productive than simply griping about the government.
"I respect people getting involved, having a plan, instead of just a complaint," Garver said.
Breuer said Garver's banking experience would come in handy, especially as the city prepares to refinance debt from its Basehor Boulevard project this year.
"The financial piece of that was very important to me," Breuer said.
Garver said he thought he could pick up the financial aspects of the job fairly easily.
"I'm used to dealing with multimillion-dollar budgets," Garver said.
And if other members disagree with his take on something, he said, he believes he can help the council move past the issue without "disintegrating."
"Hopefully I will bring along some professionalism and respect for one another," Garver said.
With about a year remaining on his term — it expires in April 2013 — Garver said he would concentrate on making decisions as they come before the council, rather than making a personal to-do list.
"I really come in with no agenda at all besides trying to move the city forward," he said.