Things falling into place for Bailey: Junior records personal best at Kansas Relays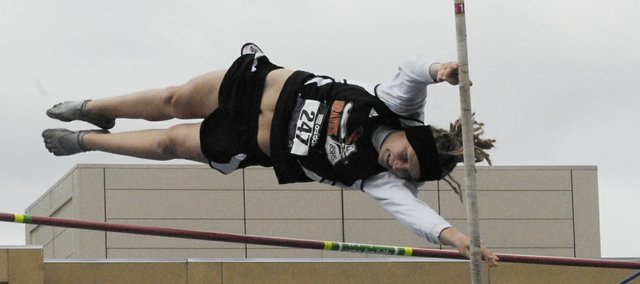 It's all finally starting to come together for Bonner Springs junior pole-vaulter Bethany Bailey.
She's been putting in extra time practicing with a private pole-vault coach, J.J. Lawler, and a leg injury that nagged her early this season appears to have been overcome.
Now add a top-10 finish at the Kansas Relays to what is becoming a resurgent junior year.
Bailey competed in five legs of the pole vault competition at the Kansas Relays on Friday, finishing with a 10-8 jump being her highest, good for eighth place in a field of 23.
"She's progressing very well," Lawler said. "This is huge. It's bigger than state."
Lawler wasn't just engaging in hyperbole as he stood on the field inside Memorial Stadium and watched Bailey's attempts. The field of competition included a number of the state's top competitors Bailey won't see at the 4A meet. In the case of Mill Valley's Emily Brigham, who earlier this year became the only girl to clear 13 feet in Kansas history, Bailey shared the field with the nation's second-ranked high school female pole-vaulter.
Bailey also competed against seven of the state's top 10 at 6A.
She also had to contend with something else she won't have to face in May: bitter morning temperatures made worse by a steady breeze.
"It woke me up," Bailey said of her first attempt. "I jumped harder the second time. I really focused on my takeoff. Out here it's easy to become scatterbrained."
Staying warm, something pole-vault coaches like to preach, is easier said than done in an environment like that which hosted the Kansas Relays' Friday morning events. After each attempt, Bailey threw back on her warm-up gear and bundled up in a purple jacket, her short blonde dreadlocks peeking out from her hood.
"We definitely have a great tailwind," she said, having identified a positive.
From there, the sun began poking through the clouds. As noon approached, along with the latter portion of the event, things got even sunnier for Bailey — she went on to top her personal best by two inches.
Basehor-Linwood at the Kansas Relays
Basehor-Linwood senior Dakkota Edmonds placed seventh in her preliminary heat in the 100-meter dash after a 0:12.88 sprint.
She did not advance to the finals. In the 4-x-100-meter relay, junior Trey Kincheloe and seniors Skylar Ross, Jesse Jones and Zac Smith placed 36th in their preliminary heat with a 0:45.42 finish.
Prior to the event, coach Steve Hopkins said Kincheloe was recovering from an injury but ultimately decided to compete in the relay.
Lane Young was not, however, well enough yet to compete in the long jump.
Bonner Springs' track and field squad will return to competition at 3:30 p.m. on Friday at the Gardner-Edgerton Blazer Invitational.
The Bobcats return to the track at 3:30 p.m. on May 4 at Piper High School.