Basehor-Linwood High School students win scholarship in memory of former classmate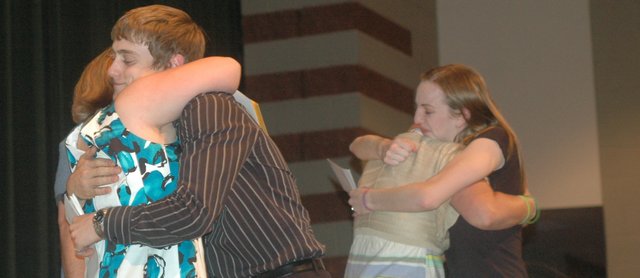 Photo Gallery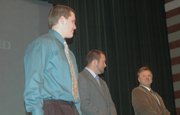 Basehor-Linwood High School 2012 awards and scholarships program
Winners
Scholarship and award winners honored Wednesday night at Basehor-Linwood High School:
Distinguished award winners
State of Kansas Governor's Scholars: Ben Kamm, Ashlee Richardson
Kansas ACT Scholar: Ben Kamm
KSHSAA Award of Excellence (Sportsmanship, Ethics & Integrity): Bailey Hooker, Ben Kamm
Prudential Spirit of Community Award, Top Student Volunteer: Jennifer Whipple
Prudential Spririt of Community Award, Community Service: Colten Stevens
Principal's Leadership Award: Jacob Peterson
KSHSAA Citizenship Award: Russell Clark, Bridget Davis
Dale M. Dennis Excellence in Education Award: Trevor Hickman
Scholarship winners
A.B.L.E. Scholarship ($1,000): Alex Bright, Sarah Hopkins, Danae Leppke
Alpha Delta Kappa Scholarship ($700): Megan Knight, Alyssa Rucker
Basehor Chamber of Commerce Scholarship ($1,000): Sydne Eriksen
Basehor Lions Club Scholarship ($700): Sydne Eriksen, Joshua Teeters
BLHS Booster Club Scholarship ($500): Marcas Box, Jesse Hiss, Sarah Hopkins, Danae Leppke, Colten Stevens
BLMS Booster Club Scholarship ($500): Danielle Ridder
Basehor-Linwood Education Foundation Scholarship ($1,000): Marcas Box, Bridget Davis, Emily Engler, Jesse Hiss, Garret Kahle, Jacob Peterson, Ashlee Richardson, Alexis Tate, Hannah Tush, Jennifer Whipple
BLEF Scholarship ($500): Ellen Farris, Morgan Kleoppel, Jade Mauzey, Brooke Redmond, Colten Stevens, Joshua Teeters, Hayley Webb, Megan Wheeler
BLEF Scholarship for technical school ($500): Skylar Ross, Alec Smith
Basehor-Linwood Soccer Association ($500): Marcas Box, Russell Clark, Ellen Farris, Cortney Wise
Bittel Family Scholarship for Math and Science ($500): Rachel Van Fleet
BLHS Student Council ($500): Ashlee Richardson
CareCats/YouthFriends Corps and National Points of Light Foundation Scholarship ($500): Marissa Dove, Neal Dickinson, Ben Kamm
Community National Bank Scholarship ($300): Laura Beebe, Jesse Hiss, Colten Stevens
Easton Bus Company Scholarship ($500): Shonna Walcott
First State Bank and Trust Scholarship ($750): Megan Downing, Trevor Hickman
Joshua Gaffney Memorial Scholarship ($500): Russell Clark, Sarah Hopkins
Gold Pride Scholarship ($500): Joshua King
Kiwanis Club of Basehor Scholarship ($500): Bridget Davis, Ben Kamm
Linwood Lions Club Scholarship ($1,600): Antonio Ferro, Skylar Ross
Lou Haney Memorial Scholarship ($1,000): Cortney Wise
Pleak Family Scholarship ($500): Kelsey Fenton
Union Bank & Trust Scholarship ($750): Danielle Ridder
Ward L. Kiester II Memorial Scholarship ($600): Cortney Wise
New Century Club Scholarship ($500): Alex Bright
Student after student walked across the stage upon receiving an award or scholarship at Basehor-Linwood High School on Wednesday night, each one exchanging the obligatory handshakes with dignitaries.
But when BLHS senior Russell Clark walked up to Vera Gaffney, he didn't shake her hand. He pulled her in for a tight hug, and he didn't let go for several seconds.
Clark had just learned he was a winner of the Joshua Gaffney Memorial Scholarship. Joshua Gaffney was Vera Gaffney's son. And he was one of Clark's best friends. He died in a car accident in 2008, when he and Clark were eighth-graders at Basehor-Linwood Middle School and baseball teammates. He would have graduated from BLHS this year.
The $500 Joshua Gaffney Memorial Scholarship, also awarded to BLHS senior Sarah Hopkins, was one of about 25 local scholarships given out Wednesday night. But this one was a different kind of honor.
"There's a lot more personal stuff going on," Clark said.
Vera Gaffney spent her Wednesday thinking about what Joshua would be today, about how he should be walking across that stage, preparing to graduate in three weeks and embarking on a bright future.
"Today was extremely rough," Gaffney said.
But at the same time, she said, it brought her some joy to think of using her son's memorial fund to help two members of Joshua's class pursue their dreams. Members of that class have kept her son in their heart as they've progressed through school, she said.
"For his friends to still be honoring him four years later is a tribute to how great he was," Gaffney said after the program, between sniffles.
She dabbed tears from her eyes from time to time as she sat onstage in the BLHS auditorium, along with her husband Tim, her daughter Amber and other representatives of the organizations awarding scholarships.
When he heard his name called as a recipient of the scholarship, Clark said, it was an honor that's hard to express. Nearly his entire class had been among Joshua's friends, he said, and he knew any one of them would have been honored to receive an honor with his name on it.
"He was the one kid who never said anything bad," Clark said. "He was that friend to everyone."
And so he exchanged lengthy hugs with Joshua's mother, father and sister when he came up to the stage, as did Hopkins, the other recipient. Clark also received one of a handful of awards given to seniors Wednesday — a Kansas State High School Activities Association citizenship award — and another $500 scholarship. But this moment easily topped everything, he said.
"It's such an honor," Clark said.
Clark plans to study music education at Kansas University next year. And though it's hard not to think about how Joshua should be here, too, Vera Gaffney said it warmed her heart to see his classmates heading off toward their futures.
"This whole class has bonded together amazingly, and they're going to go far," Gaffney said.
'Mr. Award'
Perhaps the busiest person at the awards program Wednesday night was BLHS senior Ben Kamm.
Kamm became quite familiar with the stairs leading to and from the stage as he walked up to accept three school awards, receive two scholarships, take home his third academic letter of his high-school career and be recognized for becoming an Eagle Scout.
He was honored as a Kansas Governor's Scholar for finishing in the top 1 percent of his class, named a Kansas ACT Scholar for earning a score of 32 or more on the college-entrance test and given a KSHSAA Award of Excellence for Sportsmanship, Ethics and Integrity.
After the program, classmate Antonio Ferro tapped him on the shoulder and called him "Mr. Award," with a laugh.
Kamm said the honors sprung from a high-school career spent making sure he wouldn't regret missing out on any experiences.
"I tried to stay involved with everything," Kamm said.
During his time at BLHS, Kamm was on the football, track and powerlifting teams and a member of the National Honor Society. This year, he mentored elementary students as part of the district's YouthFriends CareCats program. All the while, he kept a perfect 4.0 grade-point average.
Kamm plans to study mechanical engineering and business in college. By Friday, he has to decide whether to do that at the University of Notre Dame or stay closer to home at Kansas State University. He's been accepted at both schools.
But as for his high-school career, Kamm says he's sure he got as much out of it as he could.
"I can look back and be proud of everything I've done and all the things I was involved with," he said.