Basehor-Linwood softball sweeps Braves in a wild one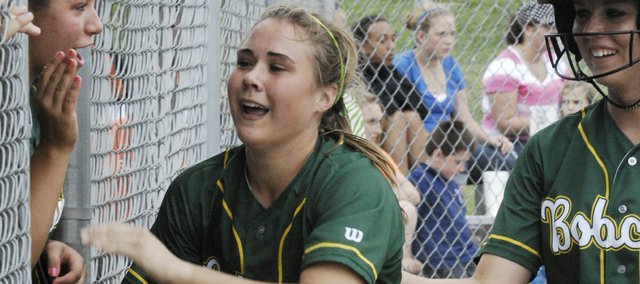 Photo Gallery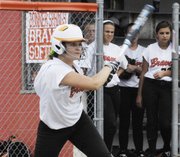 Softball: Basehor-Linwood sweeps Bonner Springs on April 26
The Bobcats won their 14th straight as the Braves' losing streak swelled to eight.
It wasn't always the most conventional of doubleheaders, but the Basehor-Linwood softball team's sweep of the Braves in Bonner Springs stayed consistent with the way each team's season has transpired.
Basehor-Linwood senior Brooke Redmond hit three ground-rule doubles during the doubleheader, each of which caused Bobcats coach Susan Mayberry to stop play and debate the ruling that baserunners rounding second at the time of the ball's exit should have scored. At one point during the second game, each school's athletic director came to the fence to confer. Though no consensus was reached, none was needed as the Bobcats (14-2) won their 14th straight and the Braves (6-8) saw their losing streak swell to eight.
"A good team will eliminate the distractions," Mayberry said. "Their head coach tonight was animated and distractive and they ignored everything and just played."
It might have been a banner night for extra-base hits for Redmond, but it was her performance on the mound that had Mayberry at one point leaping from the dugout and tossing her scorebook in the air in celebration. Redmond struck out seven in the first game — an 11-0 win in five innings — and maintained her velocity in the second with 12 strikeouts in a 5-2 win.
For Bonner Springs, a team that started the year 6-0 before being beset by injuries and error-prone play, Thursday became a rehash of Tuesday's sweep by Mill Valley, who with Basehor-Linwood is the class of the Kaw Valley League this season.
Bonner Springs coach Denise Chowning couldn't help but notice the similarities between the two doubleheaders. Each saw the Braves commit numerous errors and get blown out, only to come back in the second and make more of a game of it.
"We've had to overcome a lot," she said.
Two starters were removed from Tuesday's doubleheader, and outfielder Meagan Laughlin took the field on Thursday with soft tissue damage in her hand yet to heal.
The Bobcats wasted little time pulling away from the Braves in Thursday's opener. Courtney Leive brought in three runs to make it 4-0 in the second inning when an error by the Bonner Springs outfield allowed Leive to touch all four plates on what might otherwise had been a single. By the time she returned to the dugout, a look of exhaustion wiped across Leive's face as slapping high-fives looked like the most tenuous of tasks.
In each case where play stopped for a contention of the officials' ground-rule double interpretation, the Bobcats resumed play with a score following soon after.
After the day's second such discussion, Katie Lackner took the plate and scored Redmond and Hannah Tush with a double of her own, stretching the lead to 8-0. Three more runs — scored by Olivia Cowan, Tush and Lackner — erased the need for more than five innings in the first outing.
Though the second game was Redmond's more dominant outing, it was also much more tightly contested.
Basehor-Linwood struck first in the top of the second when a Redmond pop-up scored Candice Jennings after the ball fell between left field and short. But Bonner Springs' Geena Harris, trading first-base duties with game-one pitcher Bryanna Hammer, forced a flyout and ground out to end the Bobcats' run.
Though still not error-free, the Braves' defense played a much tighter second game. With the score still 1-0 in the third, Bre Tendick hit a triple into the centerfield gap past a diving Cowan. Cassady Holloway tied the game with a single up the middle to score Tendick.
But the Bobcats would regain momentum in the top of the fourth after a fielding error allowed Redmond and Kori Nichols to score off a Kati Lackner hit. Nichols and Leive each scored in the sixth and seventh innings, respectively, to give the Bobcats a 5-1 advantage. Still, Bonner Springs was still in it entering the final half inning after Kylee Timberlake made a beautiful diving stop from third and threw out Jennings at first, and Hammer struck out Kasick. Samantha Ricci-Weller scored the Braves second run in the seventh, but Redmond would close out the game with one more blistering strikeout.
"I think she came up huge and showed some leadership," Mayberry said.
The Bobcats haven't lost since an early season sweep at Mill Valley.
"That really upset them," Mayberry said. "They were mad about those two losses and felt that should have and could have competed. They are on a mission. They don't want to ever have that happen again this year."
Chowning is eying the middle of next week as a key point in her team's turnaround.
"I'm very hopeful that we will put it all together by regionals," she said.
Bonner Springs plays Washington on Monday, and will meet Tonganoxie on Thursday.
Basehor-Linwood will make up a postponed doubleheader against Tonganoxie on Tuesday and will play at Turner on Thursday.