Basehor
VFW

members give $525 to fifth-graders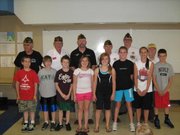 Photo Gallery
Wreaths Across America fundraiser at the Basehor VFW Post
With a spaghetti dinner on Friday, April 13, the Basehor VFW Post raised money for Basehor Intermediate School fifth-graders' effort to place wreaths on veterans' graves at Leavenworth National Cemetery each December. A few of the fifth-graders volunteered at the event, providing service to diners, and Basehor Mayor David Breuer stopped by to proclaim March 30 as Welcome Home, Vietnam Veterans Day in Basehor.
Basehor VFW Post members on Thursday presented Basehor Intermediate School fifth-graders with $525 raised at a spaghetti dinner earlier this month.
The contribution is enough to buy 52 wreaths to place on veterans' graves in December, BIS fifth-grader teacher Michelle Ablard said. That will be in addition to wreaths purchased with the help of students' fundraising efforts in the fall.
"We are so thankful for what the veterans have done for us," Ablard said.