Bobcats fourth, Braves sixth in Butch Foster Memorial baseball classic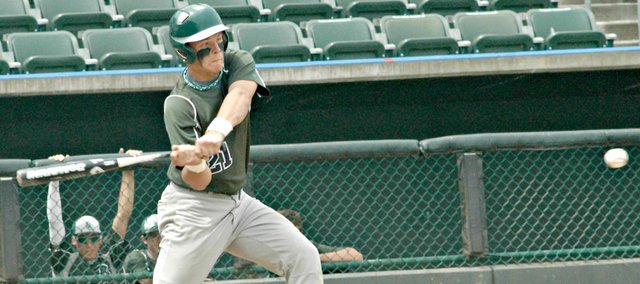 Photo Gallery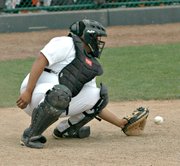 2012 Butch Foster Memorial Classic
Bonner Springs and Basehor-Linwood competed in the 2012 Butch Foster Memorial Classic at CommunityAmerica Ballpark from April 26-28.
KANSAS CITY, KAN. — After an impressive upset to open the Butch Foster Memorial Classic against top-seeded Paola, the Basehor-Linwood baseball team looked to use that to build upon success. Unfortunately, a host of errors prevented the Bobcats from grabbing more victories.
"They were excited," Basehor-Linwood coach Brian Lohafer said. "We won this last year, so they were excited about playing it again."
Following the victory against Paola, Basehor-Linwood went up against Spring Hill, one of the more solid teams from southern Johnson County. The Broncos got off to a hot start and never looked back, defeating the Bobcats, 12-1, in a game played between two days because of a severe weather threat on Friday.
Having to finish up its first game before going onto play Perry-Lecompton in the tournament's third-place game on Saturday may have had an effect on the Basehor-Linwood.
The Bobcats still managed to stay in the game against the Kaws, staging a one-out rally in the seventh inning. However, the Bobcats' last batter, sophomore Bryan Crowe, struck out with the tying runner on third base.
"That kind of dulled us a little bit," Lohafer said. "I think that's why we kind of had a slow start here in the second game, but they fought hard and almost got it."
Still, Lohafer is pleased with the effort and the result this weekend could help this team as it comes down the stretch for Regional competition.
"We can do it," Lohafer said. "We have the potential if we stick to it and work hard."
Braves place sixth
As hosts of the Butch Foster Memorial Baseball Classic, the Bonner Springs Baseball team always wants to make a good showing.
That became a difficult task this year as they ran into the two top seeds of the tournament in Paola and St. James Academy.
The Braves grabbed a victory over Holton on Friday, but could not respond on Saturday, dropping a 7-1 loss to Paola.
"Right now we've got to learn how to respond to winning, "Bonner Springs coach Scott Lero said.
Fielding such a young team has hurt Bonner Springs compared to last year, so it's hoping to find a few players that can make an impact before the end of the season.
"We're looking to find guys in spots, trying to find guys that make plays," Lero said.
Although the Braves did not get the result they wanted, enjoying the CommunityAmerica Ballpark experience is always a treat.
"It's fun for our guys to get here and get these games," Lero said. "We got everybody in somehow someway and that's nice for the boys. For most of them this is the nicest stadium they'll play it in their careers."
Before the end of the season Bonner Springs is hoping to find some consistency especially from the defensive side of the diamond in order to be competive in the coming weeks.
"We've got to figure out who can play where defensively," Lero said."Trying to get out of that mentality of just facilitating the game."