Montemayor: Remembering Mary Nutter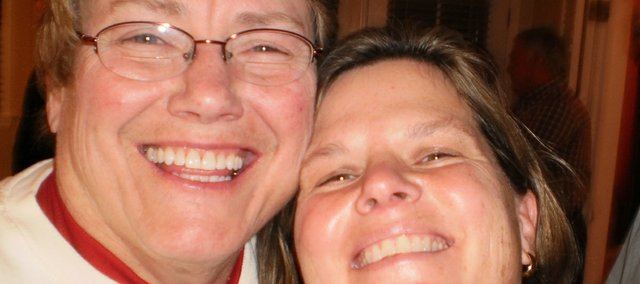 The first time I saw Mary Nutter, she was in the process of removing herself from the dugout at Bonner Springs High School's softball field, irate at successive disputed calls during a Bobcats-Braves doubleheader.
Back in Bonner Springs on Monday night, during Nutter's visitation at First Christian Disciples of Christ Church, one could hear an echo upon bringing up that story.
"That was Mary."
The line to pay last respects snaked through the church, back to the lobby where former players signed softballs and plaques denoted the various halls of fame to which Nutter was inducted. The line continued nearly out the door, and this was an hour after the first waves came through.
Nutter died suddenly on July 24 while on vacation in Fairplay, Colo. Hours later, the July 25 issue of the Basehor Sentinel would be delivered. On its sports page was the story of Basehor-Linwood softball coach Susan Mayberry celebrating her being the Buck O'Neil Legacy Seat honoree with a group of family and friends — Nutter included, of course — at Kauffman Stadium on July 18.
One week after that night at Kauffman Stadium, those who knew Nutter recalled her love for softball and for sharing her coaching talents, her towering personality serving as an effective delivery mechanism for that love.
Nutter didn't dance around what she thought. Nor did she use 10 words when five would do just fine. Her assessment of a player, or anyone really, would be free of added artificial sugar.
It is easy to bemoan how unfair it is that Nutter is no longer here. A sudden death of a vibrant individual is a shock to all close to that person.
And yet I was struck by the clarity in the remembrances flooding Twitter on the same morning former players and friends learned of Nutter's passing. The sadness and shock was still intact, but the memories people had of Nutter came pouring out as if they were fresh on the mind. They probably were.
In the Basehor and Bonner Springs communities, it is almost impossible to talk about either Mary Nutter or Susan Mayberry without mentioning the other. Their shared story begins at Pittsburg State, where Susan and her older sister, Traci, each walked onto the Gorillas' softball team before earning scholarships to play all four years for then-head coach Nutter.
After helping the program win the first conference championship in women's sports at the school, they would reconnect years later when Nutter moved to Basehor to continue her National Sports Clinics business, in which Traci Mayberry was a business partner.
And then one day, Susan Mayberry convinced the National Association of Intercollegiate Athletics (NAIA) and National Fastpitch Coaches Association Hall of Famer to join her Bobcats softball coaching staff as an assistant coach.
It's a move that speaks more to their bond than it does to the frequency with which such moves happen.
"Mary will you help me?" is what Nutter recalled being the magic words.
In what would become their last season together, Mayberry and Nutter watched as the Bobcats recovered from an early-season sweep against Mill Valley to win 19 straight en route to a chance to reprise their 2010 state championship. And when that chance ended in their second game in Salina, Basehor-Linwood recovered again, this time winning the third-place game in one of the most loaded brackets in 4A state tournament memory.
Susan's mother, Joyce Mayberry, was unable to attend that Royals game, but she was there next to Don Mayberry on Monday, talking about Nutter and the bond she shared with the Mayberrys. "Mary, Jr." is what she called her daughter, the softball coach.
If you knew them both, you might have found yourself pausing after saying either's first name, waiting for acknowledgement and fearing that you'd mistook one for the other.
Standing just a few rows away from the field at Kauffman Stadium before the game began that one hot, July night, Nutter confirmed that any legacy she left as a coach was being continued at Basehor-Linwood.
"The things that stick out more than anything else when I coached Susan was she had to have good grades, had to toe the line," Nutter said. "I was a disciplinarian, no question about it. You take on your mentor's philosophy and that's just what Susan did."
She continued: "We both have very strong personalities. We both share the philosophies that in softball and in life, the kids are going to work and work very hard. Hard work leads to success. You hope that those kids will take the philosophy and work ethic into whatever they do in life."
Toward the end of that night, one week before Nutter passed, Mayberry asked her mentor to swap seats and sit in the Buck O'Neil Legacy Seat.
"She planted in that red seat and didn't move," Mayberry recalls. "It was every bit of her being honored that night as it was me."