Young voters in play as age group cools on Obama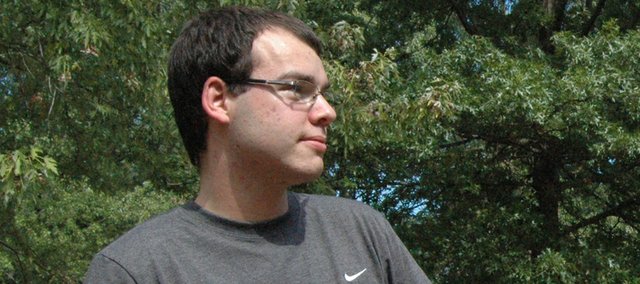 Andrew Morgan will start school later this month at Benedictine College in Atchison, making decisions as a newly independent young man, such as what courses to take, where to live and what clothes to buy.
Morgan, who graduated with honors from Baldwin High School in May, and his peers will have another adult decision to make as first-time voters: who to vote for in the presidential race.
He plans to vote but is still undecided in the presidential price. Morgan will study sports training at Benedictine and later pursue a post-graduate degree in physical therapy. Issues that matter to him are national debt, the future of the student loan program and the Affordable Care Act.
The race and merit of the candidates Obama and GOP presumptive nominee Mitt Romney were debated in high school government classes, Morgan said. He expects the debate to be more intense when he gets to the Benedictine campus.
Mike Fonkert was a student at Kansas University in 2008 when enthusiasm for the presidential candidacy of Obama swept the campus.
It was an enthusiasm that began for Fonkert during his days at Tonganoxie High School.
"Actually in 2006 when I was a junior in high school, I went to cafepress.com and bought an 'Obama for 2008' T-shirt," he said. "I didn't necessarily think it would be 2008, but did think at some point in this country's history, this guy is going to be president."
Polls show young voters not that into candidates, voting
Four years ago, Barack Obama won big among young voters in his contest against Sen. John McCain. Obama won 64 percent of the vote of the 18 to 24 and 18 to 29 age groups. Those voters 18 to 29 years of age accounted for one in six of Obama's votes.
Polls show young voter enthusiasm for Obama and the political process is much cooler this year.
A somewhat dated poll tracking the race between President Barack Obama and presumptive GOP presidential candidate Mitt Romney found neither candidate with overwhelming support among young voters. The Harvard University Institute of Politics Internet survey of 3,096 18- to 29- year-olds was conducted with research partner Knowledge Networks between March 23 and April 9, 2012
The poll found Obama leading Romney 46 percent to 23 percent among those 18 to 29 years of age and 41 percent to 29 percent among likely voters 18 to 24 years of age.
The poll shows just 50 percent of 18- to 24-year-olds approved of Obama's overall job performance, while 55 percent of those 18 to 29 did so.
Expressed voter intent also appears to be down among all voters and young voters in particular. Gallup daily tracking interviews conducted from May 1 through July 10 of more than 2,800 registered voters 18 to 29 years old and more than 30,000 registered voters found that 58 percent of the 18 to 28 age group said they would "definitely vote." That was 20 percentage points less than the national average for all age groups.
That is a significantly larger gap than Gallup found late in the 2004 and 2008 elections, when the gap was 6 and 7 percent, respectively.
Young voters helped put Obama in office in 2008, both by their numbers and margin of support. The U.S. Census Bureau found voters from 18 to 24 years old were the only age group to show a significant increase in turnout for the 2008 election, with 49 percent going to the polls compared to 47 percent in 2006. And 64 percent of those voters supported Obama.
It was a continuation of a trend of increased young voter turnout in presidential election since 1996.
Fonkert, who now works on a Democratic campaign in North Dakota, said he responded to Obama's charisma, his relative youth, especially in comparison to his opponent Sen. James John McCain, and his promise to end the war in Iraq.
In Douglas County, home of Kansas and Baker universities, the young voter turnout in 2008 re-plotted the usual graph. County Clerk Jamie Shew said graphs of voting percentage by age usually looks like the left side of the bell curve with the greater percentage voting as age increases. But in the 2008 election, the graph had a foot at the bottom as voters from 18 to 24 years of age had a 61 percent turnout rate compared to the 50 percent participation rate of those 25 to 40 years of age, he said.
There may have been a less idealistic factor in the young voter turnout and Obama's success with young voters, said Kansas University political science professor Paul Johnson. The Obama campaign rejected federal funding and spending restrictions that came with it, allowing it to spend $740 million in the campaign or more than George W. Bush and John Kerry spent in 2004.
That, Johnson said, allowed the campaign to convince a lot more young people to vote.
Flash forward four years and that campaign spending advantage is gone. Romney is more than matching the Obama campaign's fundraising efforts.
It is also questionable whether the president retains his popularity with young voters or whether they will turnout at anything like 2008 numbers. Polls show young voters have lost enthusiasm for Obama and the political process.
Owen Lewis, a 2011 graduate of Basehor-Linwood High School who will be the student body vice president of the Baker University this year, doesn't think excitement among young voters, or candidate interest in them, matches that of 2008.
"I haven't seen as much young involvement as there was in the last election," he said. "There doesn't seem to be as much marketed toward young voters."
First-time and college-age voters could be important to candidates who reach out to them because there is a desire to be part of a bandwagon and make a big impact, Lewis said.
That's a key to politicizing young voters of any voting block, Johnson said. Issues don't get people to the polls because they know one vote is insignificant and realize there are millions of voters who will support their preferences if they stay home. What gets people to vote is that it is fun or socially rewarding, he said.
"The more people feel others want them to vote, the more likely they are to vote," he said. "The more people are in a network that sends that message, the more likely they will go vote."
The Obama campaign invested in personal and network contacts in 2008, Johnson said. It will have to make the same investment to duplicate that year's turnout in this election cycle, he said.
Fonkert has confidence in the skill and knowledge of the Obama team to once again mobilize young voters in the about 100 days before the election concedes, but concedes it will have to do so in a far different political atmosphere.
"I think the enthusiasm he had then is not matched today in terms of young voters," he said. "While enthusiasm is great, people seem to be somewhat fickle and the economy is a big part of that."
Nonetheless, Fonkert said Obama's campaign has advantages. The president is on the right side of issues important to young people, such as the student loan program and Affordable Health Care Act, which allows young adults to remain on their parents' health insurance until the age of 26, he said.
And he also retains his charisma, Fonkert said.
Josh Duden, a recent graduate of Mill Valley High School in Shawnee and a self-described moderate Republican who supports U.S. Rep. Kevin Yoder's re-election campaign, experienced Obama's charisma first-hand when he meet the president as a delegate in March to the U.S. Youth Senate Program.
"He's an invigorating speaker, and he makes you want to believe everything he says," Duden said. "Everyone in my family and who I've met thinks he's a tremendous speaker, and it absolutely helps him every time he takes the stage."
A political junkie from a family of staunch Republicans, Duden said he supports Obama's re-election after researching his first term.
"I don't think he's done a bad job," he said. "He's just had a pivotal term with a lot of difficult decisions to be made."
Listening and watching Obama in 2008 made her a supporter, and she plans to vote for his re-election less than a month after her 18th birthday in October, said Courtney Wheeler.
"Watching the debates and listening to him speak, I really agreed with everything he said," Wheeler said, who will be a senior at Bonner Springs High School. "When he spoke about supporting the middle class or social issues, he did it not in an extremist way but in a way that addressed them more effectively.
"I still think that. I think he's done a great job."
It's not so much what Obama has said but what he and Romney will say in the coming months that is of interest of Lewis, who said he was still undecided in the presidential contest.
"As a business major, I'm always interested in ideas for the economy and to stir up business," he said. "It's kind of intertwined with health insurance. I like tying things together.
"The next president will be in charge of the economy for the next four years. I'm graduating and entering the job market in 3 ½ years. It's a big thing for me."
But Lewis said another factor would be the candidates' messages and how they were framed.
"I believe voting is very important, but I also don't like campaigns run on saying what we want," he said. "Everything is promised to us. It all sounds good, but it never happens.
"I'll be watching to see what they are really willing to do to get the vote. What they tell people and don't tell people, makes a big difference in my mind set."
He will be watchful of negative campaigning, as well. Lewis said he found it unfair when candidates were attacked for a vote they may have made in the past that could have been a small part of some larger bill or a mistakes for which they have atoned.
Negative campaigning could be factor in the race and youthful perceptions, Johnson said. It is expected Romney-friendly super PACs will spend an enormous amount of money as the campaign heats up it key swing states with much of that being for negative ads against Obama.
That might not drive voters to Romney but could sour some on the political process. Should young voters, who tend to be more liberal, sit out the election, that would be an advantage for Republican and one Democrats probably would not be able to match, Johnson said.
"Seniors are the most conservative voting group," he said. "Democrats haven't found the recipe to keep seniors from voting yet."