One more sendoff: McBride coaches Ryan Murphy in
KBCA

All-Star Game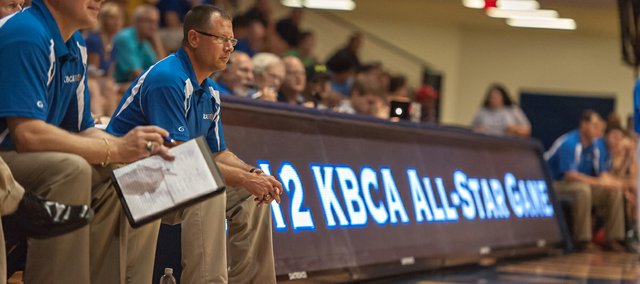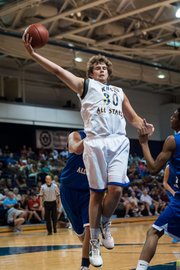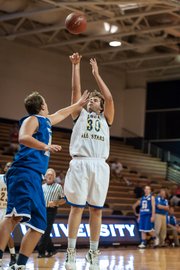 Topeka — For one more night, Ryan Murphy got emotional after finishing his high school basketball playing career, and again it was Mike McBride there to send him off.
McBride coached Murphy's Kansas Basketball Coaches Association White team in its annual all-star game Thursday at Washburn University's Lee Arena. Murphy only recorded three points and a handful of rebounds, but the White team defeated the Blue team, 112-101, in a game that felt at times like a track meet and, at others, a marathon.
For much of the night, Murphy was tasked with defending 6-foot-11 Jorden Kauffman in the post, an Andover Central graduate bound for Oral Roberts University.
"Hopefully at the next level he doesn't have to do a lot of that," McBride said after the game.
A glimpse at the future of Murphy's college team, Division II Emporia State University, could also be had on Thursday. The Blue team featured fellow incoming freshmen Micah Swank (Pratt), Terrence Moore (Wichita Heights) and Collin Strobel (Hayden).
"It's going to be fun to watch," McBride said.
Ryan and Colin Murphy played against Strobel twice last season, once in the regular season and again in March's sub-state final. Against Swank in March, the Bobcats went up against the 4A state tournament's single-game scoring leader in the semifinal round. On Thursday, Moore showed flashes of his next-level potential, throwing down a dunk on the game's first basket, and another jam to beat the halftime buzzer and liven the crowd.
"I think it's going to be a good fit," McBride said.
McBride, who was an assistant coach in the 2009 KBCA All-Star Game, took his turn in the spotlight this time. The nod came in addition to Eddie Ryan and KBCA Coach of the Year awards that followed his team's 23-3 state title run.
And McBride's assessment of his now-former player?
"I thought his legs got tired and kind of took away from his shot," McBride said. "But you know what, he played great. He did what he always does. He tried to set up some screens; it's always different when you play with kids who do something different. He knows my offense, but no one else does."
McBride added that he thought Murphy was out of shape, par for the course for August. That's soon to change, he said, when practice begins in Emporia.
"I'm sure Emporia State will get him up and down the floor again," he said.
Helping matters will be the Murphys now focusing solely on basketball, whereas they also starred on the football team at Basehor-Linwood.
It's not that McBride doesn't encourage multi-sport athletes, he does. But at the same time, he said, spending three months away from basketball does build a deficit out of which it takes time to overcome.
"I think once they start playing basketball and doing basketball conditioning, they will be a lot better," McBride said, adding that he didn't think either player had yet approached the ceiling of their potential.
By night's end, the tears didn't quite flow like they did in Salina. If that was the final chapter of Murphy's high school career, this was the epilogue. But as far as McBride is concerned, it's still not an ending.
"We'll catch up," he said.
Looking forward to winter
With a new school year now in view, McBride has the task of preparing a younger, different basketball team. Between the KAMO Shootout and a four-day camp at the University of Missouri, McBride has gotten a chance to think about his new-look Bobcats.
Senior Ben Johnson, a 2013 Kansas University football commit, figures to be a force on the inside — "he's going to be a horse, obviously" — while junior guards Chase Younger and J.P. Downing will lead a nimble group of youngsters.
"We're going to have a little bit of a different look, there's no doubt about it," McBride said. "We're going to be quicker on the perimeter and we're going to move a lot and probably be more patient on offense."
The goal now becomes restoring the sense of urgency that fueled last year's championship team. Last summer, McBride said he could notice a realization among the seniors that 2012 would be their last chance for a title. It was a thought that powered them past a two-game losing streak and on toward avenging all three of their losses, the final of which came in the championship game.
This year, with their state title rings still shining and a majority of the team with at least two more seasons ahead of them, that urgency doesn't come naturally.
"This team is going to have to learn to find some urgency next year if they want to go back to state," McBride said.
Murphys to start college in big way
The Murphy twins will begin their college careers with four straight road contests, the first three of which at Division I teams Tulsa, Kansas University and Kansas State University.
Emporia State will visit Lawrence at 7 p.m. on Oct. 30, followed by a Nov. 4 game in Manhattan with a start time to be determined.