Bonner Springs High School seeks new head swimming coach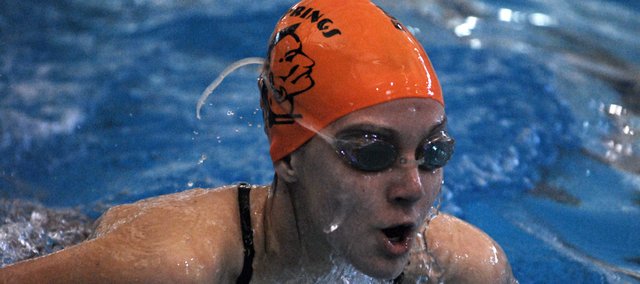 Bonner Springs is seeking a new boys and girls swimming coach, but athletic director John Hilton wants to make something clear: the program is not in flux.
After Lynn LaNoue — who coached the boys team for five years in addition to the girls team the last two seasons — resigned after the spring to take a teaching position at Clark Middle School, Hilton said the financial prudence of the program was considered in light of dwindling numbers.
When Hilton arrived at Bonner Springs in 2008, he said the boys team had more than two dozen swimmers and the girls had about half as much. Now, he said, the girls team has shrunk to below a half dozen swimmers.
But rather shut down the program, Hilton now hopes to regenerate it, and has opened the head coaching position with an eye on identifying candidates this fall.
There is one caveat.
"We need someone who can be in the building recruiting and talking to kids every day," Hilton said.
In order to boost the program's numbers, Hilton wants a coach who can be a consistent presence at the school and the YMCA pool in which the team practices just behind the high school.
"Everything comes back to coaches building relationships with kids," Hilton said. "If they're not there every day, it's hard to grow the program's numbers."
Hilton looked at baseball coach Scott Lero and girls soccer coach Mike Moulin as examples of coaches who have grown their numbers by becoming fixtures in the youth sports community. Second-year football coach Lucas Aslin has also become a regular presence at Bonner Springs youth football events and has hosted summer conditioning and football camps to further strengthen "Future Braves."
Last year, Bonner Springs girls swim team placed 23rd overall at the state swim and dive meet, largely behind the performance of a group of freshmen swimmers like Cassie Stock, Lei'Onna Smith and Madison Stumbough. The boys team also placed 23rd at its state meet, but will have even more of a new look to it after the loss of multiple seniors.
Whomever is chosen will join an athletic department that experienced what Hilton called its most successful year in 2011-12. Rebuilding Bonner Springs' swimming program won't happen overnight, but Hilton is confident that a coach that meets his criteria will in turn be capable of doing the job.
"I want someone who can visit the elementary schools and get young kids excited about swimming," Hilton said. "We're going to really try to build it from in a grassroots way."