Demolition derby draws hundreds to fairgrounds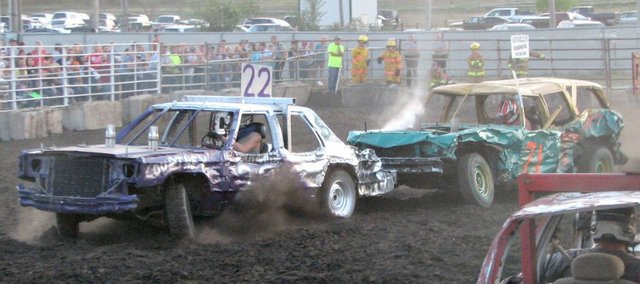 Photo Gallery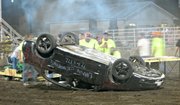 Demolition derby at Leavenworth County Fair
Fans packed the grandstands Friday at the Leavenworth County Fairgrounds to watch crash after crash at the annual demolition derby.
Cars smashed into walls and crumpled like aluminum foil Friday at the Leavenworth County Fairgrounds, but nobody will be going home with any big repair bills.
The annual demolition derby capped off Friday's county fair festivities at the fairground grandstands. Hundreds of fans packed the arena as drivers barreled into each other in an attempt to capture trophies and cash prizes.
John Green of Lawrence won the feature event, securing a six-foot trophy and $2,000. Green said he competes in derbies every weekend, but admitted it's especially rewarding to win so close to home.
"It's pretty cool," he said. "We have put a different motor and transmission in (the cars), new bumpers and that kind of stuff, then a cage to keep safe. You just keep trying your hardest and put all your heart into it."
Nick Erlacher of Wellsville took second and Shann Trieb of Tonganoxie came in third. Anthony Phillips of De Kalb, Mo., won the compact event, followed by D.J. Reeves of Plattsburg, Mo., and David Reeves of Excelsior Springs, Mo., respectively.