Friends swap projects for challenge at fair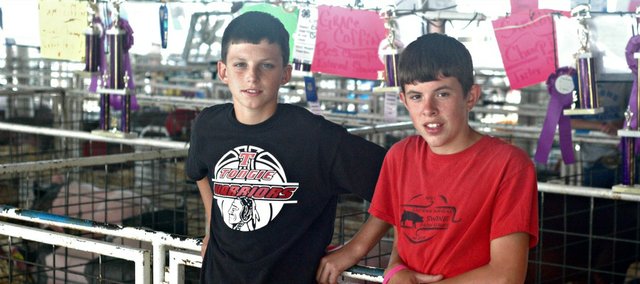 Friends Lane Hecht and Sam Coffin have had success in showing sheep and hogs, respectively.
This year, they had a better understanding of the other's forte.
Lane, a member of Livewires 4-H Club, and Sam, a member of Happy Helpers 4-H Club, have talked about swapping animals to get acclimated to another species to show at the fair.
"They were about the same price, so we switched," Lane said.
The two, who will be eighth-graders at Tonganoxie Middle School later this month, fared well with their new animals.
Lane placed third in showmanship and was reserve grand champion overall in market hog.
Sam, meanwhile, was grand champion in the Tunis sheep category.
Both agreed that working with new animals was a treat.
"It was more fun because there really isn't anyone my age," Lane said, about others showing lambs.
And it helped that it was his good friend.
There also were challenges, as Lane noted some late adjustments with showing the hog. When showing to judges, the animal needed to be between the presenter and the judge, so there were some last-minute adjustments in how the animal was shown. He was used to having the hog to his other side, he said.
As for Sam, there were a few challenges.
"Trying to make them really friendly," Sam said. "Taming them. And shearing them."