Market steer grand champion 'kind of surprised' by victory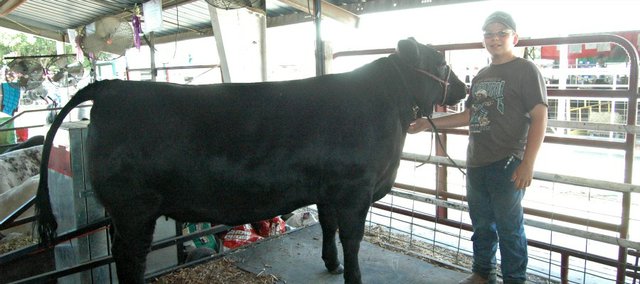 Soft-spoken Seth Beying said he was caught off-guard when he learned his gelbvieh Thunder was named market steer grand champion Thursday at the Leavenworth County Fair.
"I was kind of surprised," said Seth, a 12-year-old who will be a seventh-grader later this month at Pleasant Ridge Middle School.
Seth said judges usually go with "more moderate well-known breeds" for market steer champions.
Getting animals ready for the fair takes a lot of time, Seth said, but he's had some experience showing Thunder elsewhere, with shows in Oklahoma and Missouri, including an American Royal event in Kansas City, Mo.
His father, Brian Beying, said many others in Leavenworth County attend other shows throughout the year. It's an extremely talented group, he said.
"It's an honor for him to be among the best in Leavenworth County," Brian said.
Seth follows Jody Baragary as the 4-H'er with the market steer grand champion. Baragary, who will be a senior later this month at Tonganoxie High School, won the honor in 2011 and 2010.
It was a sweep for Happy Hollow 4-H this year as Cody Theis earned reserve champion market steer honors.