Basehor council considering sewer fee break for multi-unit buildings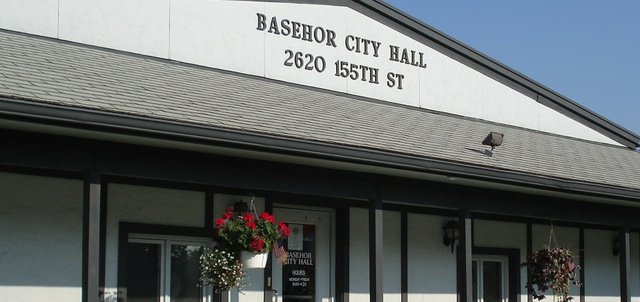 The Basehor City Council last week signaled support for a plan that would ease the burden of sewer connection fees for multi-unit residential developments or businesses, such as apartment complexes or hotels.
The plan presented by city staff at the council's Aug. 6 work session would base fees for businesses or multi-unit residential structures on lot size rather than the number of units. Interim City Administrator Lloyd Martley said city officials were concerned the city's current system could be scaring away developers of multi-unit developments.
"We're just trying to establish something that was not so rigid that we were driving those type of developments away from our community," Martley said.
The city's current sewer connection policy charges $3,450 per unit to connect to the city's system and includes no exceptions for businesses or developments with multiple housing units.
Earlier this year, the City Council denied a request from the Country Place Senior Living center for a break on its connection fee. The cost for the 22-unit complex to connect came to about $76,000.
But the proposed new system, which would charge a fee of 30 cents per square foot in lot size, would cut the center's fee more than $50,000, to about $24,000.
Council members said they thought the proposal would be an improvement.
"It's a step in the right direction for sure," member Travis Miles said.
Also at the Aug. 6 session:
• Council members said they'd support a request by the city that the U.S. Postal Service move the boundary of Basehor's 66007 ZIP code south to Interstate 70.
Hundreds of addresses in or near Basehor but south of U.S. Highway 24-40 fall in the Bonner Springs 66012 ZIP code. After the city sent a letter to affected residents last year about a possible request to move the boundary south, it received resounding support, Martley said.
Residents said insurance companies, mistakenly assuming they lived in Wyandotte County, had given them higher rates because of the ZIP code confusion, Martley said. The situation can confuse GPS devices, cause problems with deliveries and force residents to drive to Bonner Springs to visit the post office.
Martley said that a council resolution would be required as part of the request to the Postal Service, though it would not guarantee a change.
A USPS spokesman told the Sentinel last year that moving ZIP code boundaries can be complicated and is not always possible. The USPS denied a similar request in 2008.
• During a special meeting before the work session, the council approved, 5-0, the city's 2013 budget, which will provide more than $100,000 in pay increases for city employees but decrease the city's mill levy by a fraction of a mill.
Also during the special meeting, the council approved, 5-0, an ordinance and resolution that allowed for the sale of about $8.8 million in general obligation bonds. The sale will refinance debts owed on the 2008 Basehor Boulevard and 155th Street improvement district, a revolving loan from the Kansas Department of Health and Environment for sewer system improvements and a Kansas Department of Transportation revolving loan for the construction of Wolf Creek Parkway.
Bryan Kidney of the city's financial adviser, Springsted Inc., said the city had received a favorable 1.77 percent interest rate, thanks to a strong bond rating.