Bobcats defend league title, replace key positions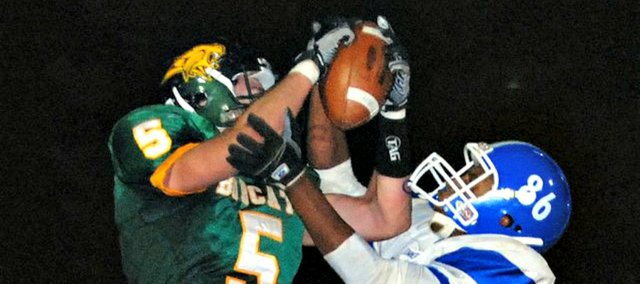 The Basehor-Linwood football team will not look the same this year, but that won't stop it from expecting the same results.
Kaw Valley League champions the past three seasons, Basehor-Linwood's offensive attack was led in large part by twin brothers Colin and Ryan Murphy, who played quarterback and wide receiver, respectively.
Head coach Steve Hopkins said the quarterback position may not be one with a clear-cut starter in place yet, but seniors Tanner Garver and Zac Hevel will have a chance to rotate and take advantage of different matchups.
"They both have strengths, but neither is Colin Murphy," Hopkins said.
Hopkins said Garver, an all-league defensive back last year, can run better, while Hevel has the better arm. In some games, one will play more than the other, but when one signal caller is in the game, the other will play receiver.
"We'll still throw it, but they'll be more of a dual-threat," Hopkins said. "Both will contribute regardless."
The team's offensive identity will shift this year from what was the top passing attack in the league to a more run-heavy scheme.
This year, Drew Potter (6-foot-4, 233 pounds) will return in the backfield after earning second-team all-league honors at running back last year. Potter saw his attempts increase last year when starter Jesse Hiss' season was cut short by injury. Potter finished 2011 with 506 yards on 95 carries.
"We'll have other running backs carry, but he'll be the main guy," Hopkins said. "We'll be more of a straight-ahead running team."
The offensive line will return experience as well, as three senior starters return. Josh Barnes (5-11, 238 pounds) played every snap at center last year, tackle Andrew Lillich (6-5, 314 pounds) played part-time last year and Austin Mecum (6-3, 230 pounds) will return experience to the line.
"I feel like we've got those three, and at least two or three options at guard," Hopkins said. "They're all really solid kids."
Two-way starters will play a big role on this year's team with Garver and Potter, but none may be as important as tight end/defensive end/captain Ben Johnson.
Johnson, who is headed to Kansas University next year as a tight end, can catch as well as block, and at defensive end, he will factor into the run game.
Hopkins said Potter, Johnson and Garver anchoring the defense, will be more important than how much they can do on offense.
"We'll need to find a way to give them a break early in the season," he said. "If they're tired we'll take them off offense first."
Senior cornerback Caleb Hiss will be big in the passing game also, defending the best receiver on opposing teams.
Even though Hopkins' program has seen success in the league and in state playoff action recently, he doesn't have to say much to his team to keep them motivated. There's little doubt that the Bobcats' 28-21 state tournament defeat against Eudora is still fresh in players' minds.
"No one's ever happy except the team that wins the last game," he said. "We feel we've got good kids coming back."
Hopkins recognizes talent in the rest of the league, but he believes as the team gets a chance to jell over the duration of the season, it will be ready by the playoffs.
"I really think Piper's the most explosive and Mill Valley's the favorite," Hopkins said. "We may stub our toe early, but we think it'll help us improve for the playoffs."