Alzheimer's on rise; resources can help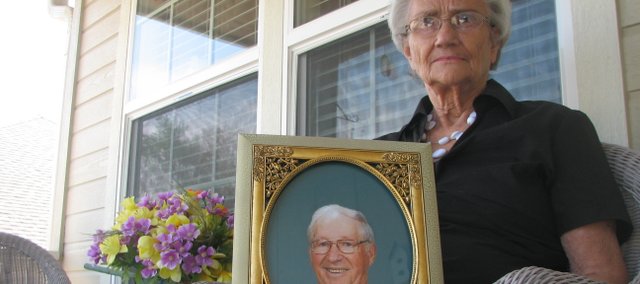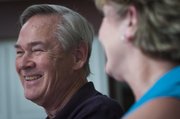 Former congressman becomes advocate
Former Congressman Dennis Moore and his wife, Stephene, each now have a permanent piece of jewelry: a purple Alzheimer's Awareness wristband.
Since the six-term congressman announced earlier this year that he was diagnosed with the disease in 2011, the Lenexa couple have been taking steps to turn a negative into a positive: to promote awareness of Alzheimer's and the growing number of people affected by it. Their wristbands serve as a daily reminder to share the message with others.
"It's really to help the community understand that you can say the word 'Alzheimer's.' You can talk about it with your family," Stephene Moore said. "Very sadly, we know people, one family in particular, … they are not allowed to talk about it. The husband … thinks he's going to snap (his wife) out of it. That's a bad attitude to have; that's exactly what we don't want."
The Moores say they are approached more and more often by others who have questions about the disease.
"That's why we want to raise public awareness and encourage people, if they think there is a concern, to maybe get a diagnosis or get a medical examination, find out if there's a real problem," Dennis Moore said.
When Dennis, 66, began to exhibit some signs of memory loss, the first doctor the Moores saw blamed it on stress. But that didn't ring true for them, so they visited another doctor at St. Luke's Hospital in February of last year. The official diagnosis came four months later.
Dennis Moore's father had the disease, so Dennis said it wasn't totally unexpected. But before his father's death in 2005, the Moores had experienced the discomfort of not knowing how to help his parents, escalated by the fact that they lived hours away in Wichita.
"It was hard to watch; you didn't know what to do," Stephene Moore said. "You didn't know what was going on, and we were at a loss for how we could really help, aside from being there for (Dennis's) mom."
The Moores won't be facing those problems this time. They are taking advantage of services offered through the Alzheimer's Association's Heart of America chapter in Prairie Village, including support groups, which they attend twice monthly.
Dennis attends a group for those with the disease, while Stephene attends a group for caregivers, which she says has helped her deal with the daily frustrations that come from the short-term memory loss Dennis has been experiencing.
"I would encourage people who have received the diagnosis to get involved with a group like we are," Dennis said. "I think that really does help the family; it helps understanding — the people involved understand what they can do to better deal with the situation."
The Moores recently have made greater advocacy efforts, going to Washington, D.C., in April to speak at the National Alzheimer's Association Advocacy Forum. In June, they spearheaded a fundraiser for an education and awareness initiative, now named in their honor, at the Alzheimer's Association's Heart of America chapter.
Dennis is currently taking just one medication for his Alzheimer's and has tolerated it well. A challenge for many is finding the right medication. He has adopted other healthy practices in the hope of slowing the disease's progression, taking fish oil and multivitamins, as well as making a daily smoothie with coconut oil, which is purported to help Alzheimer's patients, and walking daily.
They have made basic plans for the care decisions they will have to make in the future, though they hope those decisions are far away.
"We're just dealing with it day by day," Stephene Moore said. "We know what to expect, but of course we don't know when to expect it. So between now and then, you just deal with it day to day and continually field questions. ... We hope to continue to educate people and heighten the awareness, because it's not going to go away."
10 warning signs
• Memory loss that disrupts daily life (aside from sometimes forgetting names or appointments, but remembering them later).
• Challenges in planning or solving problems (other than making occasional errors when balancing a checkbook).
• Difficulty completing familiar tasks at home, work or in leisure activities (more than occasionally needing help to use the microwave settings or record a TV show).
• Confusion with time or place (beyond getting confused about the day of the week, but figuring it out later).
• Trouble understanding visual images and spatial relationships (a typical age-related change would be visions changes related to cataracts).
• New problems with words in speaking or writing (more than sometimes having trouble finding the right word).
• Misplacing things and losing the ability to retrace steps.
• Decreased or poor judgment (aside from making a bad decision once in a while).
• Withdrawal from work or social activities (not just feeling weary of work or obligations).
• Changes in mood and personality, especially if easily upset (beyond becoming irritable when a routine is disrupted).
Armella Ashworth of Basehor said her late husband, George, had never been sick in his life before he was diagnosed with Alzheimer's in 2007.
For most of the last three years of their 60-year marriage, while they still lived on 80 acres in Parker, Kan., she cared for him, until a series of small strokes put George in a nursing home for the last six months of his life. She remembers having to be careful about him leaving home in the middle of the night and losing the ability to communicate and even eat.
"I know you sleep with one eye open forever while they have it, you can't turn your back on them at all, and you can't argue with them," she said.
The Alzheimer's Association reports that 5.4 million Americans have the disease, and that number is expected to grow to 13 million by 2025. Alzheimer's is now the sixth-leading cause of death in the country, and the direct costs of caring for those with Alzheimer's and other forms of dementia are projected to total $200 billion in 2012.
In Kansas, the number of those with the disease is expected to increase from 53,000 in 2010 to 62,000 in 2025.
As more people are affected by the disease, it becomes more important to be prepared for all of the challenges it brings, said Michelle Niedens, director of education, programs and public policy for the Alzheimer's Association Heart of America Chapter.
"This is a long disease, and really the information you can absorb comes in pieces," she said. "So beginning to be informed about the elements, the issues that you might have to face that are in close proximity, is very important."
Unknown origins
When Alzheimer's is diagnosed, patients and their families must face the reality that there is no overcoming it; no drugs have been found that stop its progression.
"When it comes to drug development, we have to keep in mind that we're not really sure what causes Alzheimer's disease," said Dr. Russ Swerdlow, director of the Kansas University Alzheimer's Disease Center and professor at Kansas University Medical Center.
Swerdlow said the first group of drugs approved for treatment, which became available in the mid-1990s, are still the most useful drugs.
"We have some treatments, and they can slow the decline of people with the diagnosis, and that represents a big advance over what we were able to do 20 years ago," he said. "But we haven't had much success in building on that in the last several years. Investigators are trying to develop more effective ways to slow the disease, freeze the disease or even improve it."
One boost to development of Alzheimer's medications may come from the National Alzheimer's Plan, announced May 15 by the Obama administration, to provide $100 million in federal funding with the goal of finding effective ways to prevent and treat the disease by 2025.
"Will it be sufficient so it is cured by 2025? That's hard to predict right now," Swerdlow said, noting that the government is still working out details about the funding. "If the support doesn't match the rhetoric, then solving this by 2025 will prove difficult."
An even greater commitment is needed, according to Stephene Moore, wife of former U.S. Rep. Dennis Moore, who was diagnosed with the disease last year.
"Yeah, $100 million, thank you very much, but let's double that, let's triple that, let's 10 times that to get the money into the research," she said.
She noted that Alzheimer's is the only disease of those in the top 10 causes of death that does not have a cure or a way of slowing the progression.
"Cancers, as horrible as they are, at least the dollars are there for the research to figure it out and to understand what they can do to prevent, to slow down, to eventually cure the disease," she said. "And we're just hoping, for our children and grandchildren … that we can get a jump on this."
Three years following their mother's diagnosis with dementia and Alzheimer's disease, the Thelen siblings of Shawnee decided they needed to do a little bit more.
Though they already participated in the Walk to End Alzheimer's events, Phil Thelen, Donna Pflumm, Kathy Evans and Bernadette Farra wanted to see more support of research into Alzheimer's treatments.
"So many people have it, and every day so many more people get it," Evans said. "It's just like any other disease; the more knowledge you have, the more you want to get out there and cure it faster."
So the Shawnee family organized their own event, "The First Ride to End Alzheimer's," a motorcycle event that, thanks to the generosity of the biking community, raised $6,000 in June for the Heart of America chapter of the Alzheimer's Association. Their event also helped them realize how many people's lives have been touched by the disease.
"It's amazing how many people will tell you that they have a parent that has Alzheimer's now," Phil Thelen said.
The shock of diagnosis
When Tonganoxie resident Don Huebner's wife, Patti, was diagnosed with Alzheimer's about a year ago, he didn't expect it.
"We've been married 67 years, and we raised four kids, and she had a memory like an elephant, I used to say," he said, adding that he hadn't given much thought to her forgetfulness. "When it happened, I just felt as we get older, we don't have as good a memory as we used to have."
Members of the Thelen family said they believed their father, Donald Sr., was hiding the symptoms of their mother, Mary, for years before his death four years ago.
They had noticed small things, like Mary putting items in the refrigerator that should go in the freezer, but it wasn't until Donald's death that they realized something was really wrong.
"I think Dad sheltered family from realizing how bad she was getting," son-in-law Dave Farra said. "She didn't want everybody to know, so he helped her get along with life so we wouldn't notice as much."
Charlene Davis of Bonner Springs said she and her husband never worried about Alzheimer's until his diagnosis in 2007, even though his sister had it. She wonders now if there is a genetic link.
Swerdlow said the only proven genetic link is in early onset Alzheimer's, which strikes people in their 40s or 50s. That has been known to affect about half of relatives at each generation. But less than 1 percent of Alzheimer's patients fall in that group.
The chances of getting Alzheimer's do increase if a direct relative, especially a parent, has had it. But chances also are increasing for everyone simply because people are living longer; just by being born, the risk of developing the disease is 15 percent, he said.
"So if someone is designed genetically to live longer, that in and of itself may increase the risk of developing AD," Swerdlow said.
Care decisions
After her husband's diagnosis, Armella Ashworth of Basehor said he didn't want to talk about the disease or what would happen to him.
"We never ever discussed it again," she said. "He just didn't want to, … and I didn't really think about it either. We just took it every day for what it was worth."
She cared for him until six months before his death, when a series of small strokes forced her to move him to a care facility.
Davis said her husband has long told her he would never want to be put into a nursing home of any sort.
"I think he'd be better off with me than strangers," she said.
But the Thelens, who put their mother into a memory care facility three years ago, said you have to keep the care providers in mind. They tried to provide 24-hour care for their mother for six months, but ultimately they decided it was too stressful for her and for themselves.
It was not an easy decision to make.
"It may not be the decision that is going to make them happy, but it is the right decision," Phil Thelen said. "We don't have to be the caregivers now; it allowed us to be her kids again. We're able to enjoy the time we have with her."
Scott Schwartz owns a memory care facility in Baldwin City with a maximum of just seven residents. He said smaller facilities are becoming a trend for Alzheimer's patients, as they need so much one-on-one care.
For those considering a memory care facility, he suggested families consider the level of staffing a facility can provide for their loved one in order for them to receive adequate attention. He also suggested considering the environment of the home.
"Is it small enough that they are going to be able to not have their anxiety level raised by seeing a large number of visitors, a large number of care staff?" Schwartz said. "Typically, they're going to do a lot better with routines, so the less people you have cycling through, the less behaviors they're going to have."
Finding Support
Looking back on her experience, Ashworth said that while her children did a lot of research on the disease and shared their knowledge with her, she probably could have sought more help.
"You get the strength from upstairs when you're going through it," she said. "I look back on it now, and I just don't know how I did it by myself. I think if I had to do it over again, I at least would go to a group session that discusses Alzheimer's."
Niedens said the Heart of America Chapter offers several services for Alzheimer's families, including a social work staff, informational library, support groups and dementia care specialists who can help families understand issues involved in finding a memory care facility.
"We do lots of work around grief, which is the biggest hurdle in accepting help, whether it comes in the home or in a facility," she added.
About four times a year, the chapter offers a six-part family education series about the disease, requiring an hour and a half one night a week. The course also helps those new to the disease realize the importance of support groups.
"Often what happens at the end of the family series, they realize how wonderful it is to be in an environment where everyone in the room knows what you're talking about," Niedens said. "So at the end, they often transition into a support group."