BLHS

graduate earns doctorate from Baylor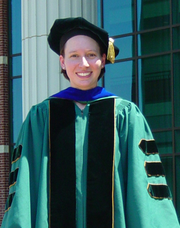 A Basehor-Linwood High School graduate has earned a doctorate from Baylor University in Waco, Texas.
Angela Michelle (Pooler) Douglass, a 2000 BLHS graduate, graduated from Baylor on Aug. 11 with a Ph.D. in physics. Her dissertation was on "Fundamental Physics within Complex Plasmas."
Douglass earned a bachelor's degree in physics at Southwestern College in Winfield in 2004 and a master's degree in phsyics at the University of Kentucky in Lexington, Ky., in 2007.
Douglass is the daughter of Don and Pam Pooler. She has accepted a faculty position at Ouachita Baptist University in Arkadelphia, Ark.