Fall Preview: Bonner Springs seeks repeat of big 2011-12 year in sports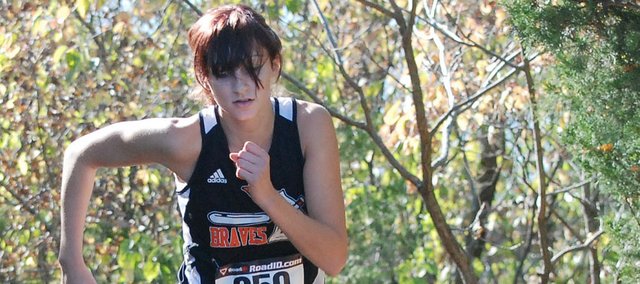 Football previewed
In case you missed it last week, check out our 2012 Braves football preview.
Student Athletes of the Week
We look forward to recognizing outstanding achievements both inside the classroom and on the field. Send us your nominations to smontemayor@theworldco.info.
Fall's onset brings a host of new storylines to the Bonner Springs athletic department. This summer, athletic director John Hilton said the 2011-12 school year was the department's most successful overall, indicating further achievements are just on the horizon.
Cross-country
Senior Mandy Ballou qualified for state as a freshman and was an all-league runner last year, setting herself up for a memorable curtain call. Girls coach Rob Marriott said Tessa Newberry and Citlally Alvarado are also expected to lead their half of the team this year.
"We have a lot of talented newcomers this year and we are hoping to ride our summer workouts and youthful enthusiasm to state in late October," Marriott said. "We will need to work both hard and intelligently this season to accomplish this."
Marriott said the Braves have targeted several meets as opportunities to "do something special."
Marriott added that the girls will miss Scintilla Capalla, who sat out her senior season while fighting bone cancer last fall.
For the boys, two-time state qualifier T.J. Kimbrough French returns to captain the team. Austin Schuler (second-team all-league), Joe Casteel, Trey Scott, Zach Quigley and Thomas Hook also reprise their varsity roles.
Meanwhile, the Braves will be without three-time state qualifier Matt Coffman, who graduated in May.
Boys coach Bill Downing has made it a goal to send his entire team to state this season and sees meets like the Sept. 15 Bonner Springs Invitational at Wyandotte County Park as a key stepping stone toward that objective.
"It's become one of the premier meets in the area, region and state," Downing said.
Cross-country begins its season at 5 p.m. Aug. 30 at Ottawa High School.
Boys soccer
Boys soccer coach Mike Moulin is counting on his young squad to peak late in the season as it adjusts to the graduation of Brett Steuart, Nate Mitchell and Spencer Bush.
Moulin said 2011's team was paced by its defense while a youth-laden offense struggled to score at times.
Moulin called the Braves' season-ending 1-0 loss to eventual state champion Kansas City Christian in the first round of regionals the team's best match of the year.
"The boys played hard and created chances to win," he said.
Moulin will have a large crop of returning players to build from this year in Dante Crider, Spencer Frank, Ryan Schuler, Jason Van Maren, Colin Barker, Robbie Glenn, Jacob Kraus, Dominic Salvino, Quinton Schneck, Austin Schuler and Jacob Bailey Harris.
Bonner Springs' season begins at 6 p.m. on Aug. 28 against Tonganoxie High School at David Jaynes Stadium.
Girls tennis
For the first time in tennis coach Bill Scott's 34 years of coaching, he will have a team with no returning letter-winners.
Two-time state qualifier Bre Tendick and three-time letter-winners Toni Stock, Melissa Cisneros and Lauren all graduated. Emily Hunt also graduated. Meanwhile, Bethany Bailey transferred to Maranatha Christian Academy in Shawnee and Aubrey Julo moved to Missouri.
"Our varsity will be last year's JV players," Scott said.
Cassie Stock, Hannah Hunt, Sammy Ricci-Weller, Michaela Reed, Alex Carter and Kayla Greer are among the girls Scott believes to be the strongest returning players. Which isn't to say he won't welcome a pleasant surprise or two within the program.
"We hope to have some new freshmen out that will pick up the game quickly," he said.
Last season's team was Scott's largest ever with 32 girls. Three-quarters of that group played exclusively on junior varsity, leaving room for more stars to emerge this year. They will be tasked with following up a season in which the varsity medaled in every tournament in which it appeared.
"With so much inexperience, everyone ought to feel like they have a shot at varsity," Scott said. "We will see who works the hardest to get it."
Improvement, more so than victory, will be how Scott gauges success this season. Getting someone to state will still be a goal, and should that happen, it would mark the 24th time in 34 years Scott has sent a girl to state.
"If it happens this year," he said, "someone is really going to show immense improvement."
The girls' season begins at 3:15 p.m. on Aug. 28 against Bishop Miege at the Country Club Plaza in Kansas City, Mo.
Volleyball
Seniors Haley Hoffine (outside hitter) and Cassady Holloway (libero) will be looked at as key players for the Braves this fall as first-year volleyball coach Jan Madlock takes the helm. Hoffine and Holloway represent the bulk of the varsity experience remaining from a senior-laden 2011 squad.
"They will bring solid skills, a strong competitive spirit and good experience," Madlock said.
Fellow senior Skylar Taylor will miss the season while sitting out with an injury sustained during soccer season last spring.
Even while speaking before tryouts this year, Madlock said she expected the Braves to finish in the top half of the league.
"I think we will surprise some competitors," Madlock said of her young team.
The Braves finished 21-18 last season, improving from 17 victories in 2010 and nine in 2009. Bonner Springs advanced to the semifinals of the sub-state tournament before being eliminated by eventual state champion St. James Academy.
Madlock was introduced as new head coach in February, replacing Heather Campbell. Madlock brings with her an impressive resume. Her coaching background includes assistant positions with Kansas University, Illinois State University and the University of Iowa. Madlock also served as head coach at Avila University from 2007 to 2010 and won the 6A state championship as head coach at Blue Valley Northwest.
As a player at Illinois State University, Madlock and her teammates went 30-4 her senior year and lost in the NCAA Division I Sweet 16 round to eventual national champion Long Beach State University. Madlock will travel to her alma mater later this fall to celebrate the team's 20th anniversary.
Volleyball's season begins with a team scrimmage at 6:30 p.m. on Thursday, Aug. 23 with regular season play beginning at 5 p.m. Aug. 28 at home against Basehor-Linwood, Baldwin and Eudora.