Food: Apple crops arrive early, but drought makes for dicey harvest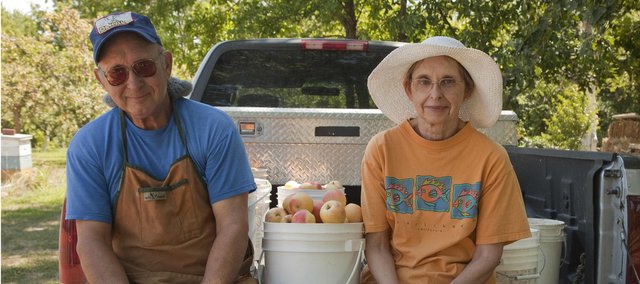 With many buyers just beginning to realize it's apple time, Ernie Richardson's Gala crop has already come and gone.
Normally, Richardson said, his Gala trees would be just ready for harvest. But the early variety showed up at least three weeks ahead of schedule, and now, "they're done."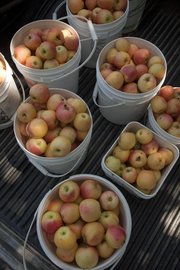 Following the lead of early summer stone fruits and most other produce this year, northeast Kansas apples are arriving one to four weeks early. The size and quality of early crops also varies.
For that, growers blame the drought.
"Everything is early, but it's not uniformly early," said Bruce Curtis, who owns Fieldstone Orchard in Overbrook. "Some individual trees are earlier than others in the same variety. You've got to stay in tune with everything ... test and sample and make sure you're getting them when they're ripe."
Curtis, who bought the orchard and converted to organic practices a year ago, has had apples at the Merc and Cottin's Hardware Farmers Market for weeks and hopes to get into the Saturday Lawrence Farmers Market soon.
There's a marked difference in the trees he irrigated and the trees he didn't, Curtis said. With the worst of the drought hopefully over, he's optimistic his later varieties will come on strong before the season's end, which he guesses will be late October for him.
Walt Stephen, who owns Stephen's Orchard in Bonner Springs, also hopes his late apples will be better than the ones he has now, which he said taste good but are small and few.
"We're not going to have a big crop, but at least we're going to have a crop," he said.
Last year, a frost in late spring decimated Stephen's apples. This year, he lost about a third of his crop to "sunburn" in the heat that persisted from late June through July. Even though they taste fine, he has to sell those apples as seconds — which people snap up for drying or applesauce — because they don't look good.
"Mother Nature kind of takes care of what we get," Stephen said. "You know, if we don't get any rain, our apples suffer."
Donald Turner of Kansas City, Kan., called this year the worst he's experienced in his 40 years at Turner's Orchard.
Without expensive irrigation, blossoms withered and dropped off. Many apples that did make it burned in the intense sun. Turner has been selling the apples he has at his home and at a swap meet in Kansas City, Kan.
"This has just been a mixed-up year," he said. "We have to take what we've got and be happy we've got it."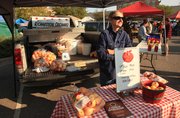 Mother Nature — with help from a conscientious watering effort — looked more favorably upon Richardson, who lives in Lawrence and has an orchard northeast of town.
His early crop was strong — "It's by far the biggest I've ever had," he said — and he expects the same from later varieties. Richardson said he doesn't have an irrigation system but he started watering early and did so regularly.
"It was hot out there," he said.
While overall quality hasn't been as high as it usually is later in the season, the quantity of early apples has been almost too much for the Lawrence Farmers Market to handle, said market coordinator Pam Bramlett.
"We're seeing apples a lot earlier than we expected, it's given us a really full market right now," she said, explaining it's atypical to have so many apple vendors overlapping the usual late-summer produce vendors. "We've been sticking them everywhere we can stick 'em."
Applooza at the Saturday Lawrence Farmers Market is set for Oct. 13.
Even with apple harvest starting early, Bramlett said farmers don't expect it to end so soon they won't have apples for the annual event.
"They're still saying they'll be fine," Bramlett said.
— Lawrence Journal-World features reporter Sara Shepherd can be reached at 785-832-7187. Follow her at Twitter.com/KCSSara.