Founder's descendents to attend festival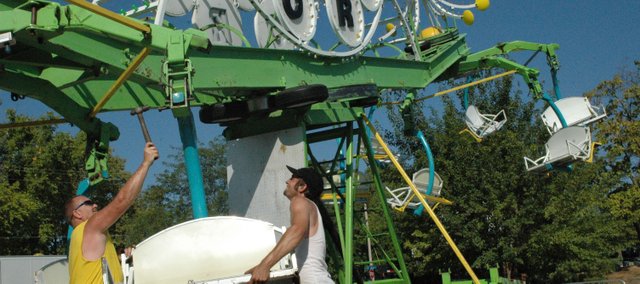 For possibly the first time, descendants of Henry Tiblow will take part in the annual festival named in his honor.
After attending last year's Tiblow Days unannounced, Doug Tiblow, his brother and his cousin plan to visit from Oklahoma and take a more active role in this year's festival, which organizers say will be slightly altered to be more family-friendly. The three Tiblow descendants will serve as honorary grand marshals in Saturday morning's parade.
Bonner Springs was originally named Tiblow in honor of Henry Tiblow, a Delaware Indian who operated a ferry across the Kansas River. Doug Tiblow said his family first learned about the important role their ancestor played in the Bonner Springs area in 1998, when the city's Centennial Committee found Henry Tiblow's grave in Oklahoma and paid to have his headstone replaced.
The woman who helped the committee find the grave happened to know the Tiblow family, Doug Tiblow said, and that was when they first learned about Tiblow Days.
"We talked about going up, but we never did," Doug Tiblow said. "We finally went up last year."
Though the family attended with the intent of going to the festival, they didn't contact anyone in the city ahead of time. Doug Tiblow came armed with a photo of his father and Roger Miller, a member of the Centennial Committee, at Henry Tiblow's grave in 1998, with the plan to track Miller down.
Once they found Miller, they were introduced to the Tiblow Days organizing committee, who invited the family back for this year's festival.
"Everybody was just beside themselves that we were descendants of Henry Tiblow," Doug Tiblow said.
The Tiblows didn't realize how many events were included in the festival, only staying long enough for the Saturday morning and early afternoon events last year, so Doug Tiblow said they plan to take advantage of all the fun that Tiblow Days provides this year when they arrive in town on Friday.
"We're looking forward to going up," he said. "There was a lot going on that we didn't know was going on last year."
David Block, current president of the Bonner Springs-Edwardsville Area Chamber of Commerce, said this year's festival would be only a little bit different from years past, mainly in Saturday's free concerts.
"It's a little smaller in scale, but not by a lot," he said. "Things went well on the planning side, and we're ready to go. There were no major hiccups."
While in the last few years, the festival has booked national hard rock acts, several people told the chamber they would prefer some more family-friendly music, Block said. So this year the organizing committee decided to focus on local bands for Saturday's concert: Lonesome Jake, a country band; Rattle & Hum, a U2 tribute band; and Revelation, a Journey tribute band.
The chamber also will not provide a free concert on Friday night this year, but Kobi's Bar and Grill stepped in to fill that vacancy and will provide the concert.
In other area festival news, the other chamber-organized festival, Edwardsville's Autumnfest, is in a state of transition.
Block said several challenges were keeping the organizing committee from moving forward with the festival, which is set on the last Saturday in September. It also has been a challenge to organize a festival so soon after Tiblow Days, so they decided to create a new event for Edwardsville and move it to a completely different time of year.
"We just felt we could do a better job with that festival in the spring," Block said.
Block said the chamber wants Edwardsville to have a "new and improved" city festival. In order to ease the transition, he said the chamber still plans to have an Autumnfest parade on the day the festival would have occurred, Sept. 29.