What to watch for this season for Basehor-Linwood fall sports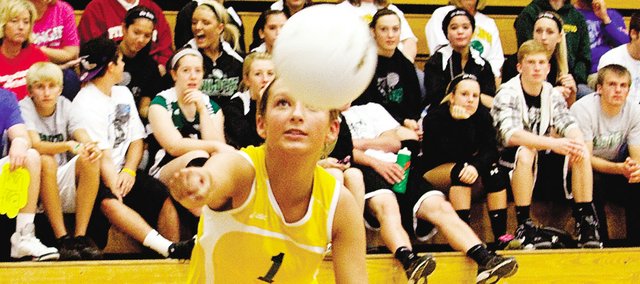 Football previewed
In case you missed it last week, check out our 2012 Bobcats football preview.
Student Athletes of the Week
We look forward to recognizing outstanding achievements both inside the classroom and on the field. Send us your nominations to smontemayor@theworldco.info.
The girls golf team is already off and running. An elusive state tournament berth is within sight for boys soccer. Cross-country hopes the return of a few experienced runners offsets the loss of last year's leaders. And volleyball will try to expand on its best season in recent years.
Here's a look at what's in store for the fall at Basehor-Linwood.
Cross-country
The team has lost some good runners, but also return several state qualifiers from a year ago. On the girls side, coach Jeff Venema said sophomore Quinnlyn Walcott and junior Ally Laney will headline a group that is low on depth.
Other than losing a state qualifier in Jon Oliva, the boys will be comparable to 2011 as they return the remainder of their starting lineup.
Venema said the returners have been working all summer to improve and hopefully make it to state as a team.
"Our kids are working really hard, and I think we have a chance to have a good season," he said.
Cross-country begins its season with the Basehor-Linwood Invitational at 4 p.m. Aug. 30.
Key losses: Jon Oliva
Key returners: Sophomore Quinnlyn Walcott, junior Ally Laney, senior Joe Levinson, senior Eli Elliott
Girls golf
Bruce Courtney is new to coaching Basehor-Linwood's golf team, but he is not new to coaching at the school. The former varsity girls basketball coach has just begun getting a feel for what his team will be like this year, but is excited about the challenge.
"I'm really looking forward to working with them," he said.
Last season, the team came up short in qualifying for the state tournament, losing the seniors who competed the most in the process.
Girls golf began its season on Tuesday and will next meet Mill Valley on Aug. 29 at Alvamar Golf Course in Lawrence.
Key losses: Marissa Dove and Nicole Vasquez
Boys soccer
Recently, Basehor-Linwood's boys soccer team has struggled to make it out of the first round of the playoffs — their most recent exit a 4-1 defeat to St. James Academy last season.
Coach Austin Knipp said the focus hasn't changed, but with 12 seniors returning, the team's mentality has changed.
"They realized this is it," he said. "They're a pretty focused group."
Knipp said he is excited about the team he has coming in. Ten of the 11 starters will most likely be seniors.
"I think we'll have a pretty good shot at state," he said.
While the team's defense may need some work, Knipp said the biggest obstacle to replacing what the Bobcats lost is just getting the players used to playing the entire game.
"Once we get guys molded, we'll be a force to be reckoned with," he said.
Boys soccer kicks off at 6 p.m. Friday at Maranatha Christian Academy.
Key returners: Senior Trey Kincheloe, senior Lane Young, senior Sammy Seaton, senior Zach Ferguson
Volleyball
After finishing 2011 with a second-place finish in the Kaw Valley League, the Bobcats are looking to improve after what coach Amy Irvin called their best finish in program history.
Irvin said the thing the team struggled with most was just a matter of when they played at their highest.
"We wait too long to play our best," she said. "From point 0-0, we have to play to our potential no matter who it is we are playing."
With last year being Irvin's first season coaching the varsity squad at Basehor-Linwood, she said she has learned to put the priorities of the team above the priorities of individuals.
"I realized this year that I'm not going to make everybody happy, but you have to do what's best for the team."
Volleyball's season begins with the Frontier League Tournament at 8 a.m. Saturday in Eudora.
Key losses: Cara McCarty
Key returners: senior Brandi Stahl, senior Haley Waters