True grit: Bobcats ready rush attack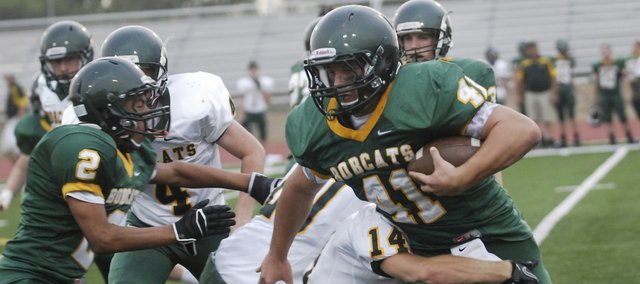 Photo Gallery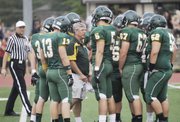 Meet the Bobcats 2012 Football Scrimmage
For the first time this year, Basehor-Linwood's football team gathered under the lights for its Meet the Bobcats scrimmage. With several positions still up for grabs, players had an hour to show coach Steve Hopkins something to persuade him before he settled on the final depth chart for the Bobcats' Aug. 31 home opener.
Column: No shortage of highlights this season
Sports editor Stephen Montemayor takes a look at the upcoming football season, making predictions and undoubtedly setting himself up for being proved wrong along the way.
When the team met for a final huddle and the bleachers cleared Thursday at Basehor-Linwood High School, thus signaling an end to the annual Meet the Bobcats preseason football scrimmage, the work was just beginning for coach Steve Hopkins.
A long night of reviewing film awaited Hopkins before he could settle on a final depth chart Friday, choosing whom to plug in where on a team replacing a wealth of experience. These Bobcats take the field without several veterans who led the Bobcats to three-straight league titles and two years of undefeated regular season play. This will be a new-look team, to be sure, but Hopkins' challenge in filling out the starting lineup was not for want of options.
"We have kids that are virtually even," Hopkins said. "And even if we put a kid's name down first, we still feel good about the guy behind him. The other kid's going to play, too."
All summer, from 7-on-7 through scrimmaging, the story has been who will be tasked with leading the offense behind center. With Colin Murphy's graduation went a 19-2 record as a starter. Seniors Tanner Garver and Zac Hevel were tabbed in the offseason for a platoon role, with the idea of keeping both on the field at quarterback and receiver at all times.
Hevel was quarterback when the varsity offense ran its first series Thursday, accounting for many of the night's longest throws — most of which to 6-foot-6 tight end Ben Johnson, a downfield threat all evening.
"It helps so much when we have Ben running downfield," Garver said. "He's going to get double-teamed almost every single time."
When Garver swapped with Hevel, he made plays with his feet, picking up large gains on the ground when nothing opened up, even running one in for a score toward the end of the hour-long scrimmage.
Multiple Bobcats will be counted on to be on the field for most of each game. Garver (53 tackles, 3 interceptions in 2011) will reprise his role as defensive back, while Johnson (tight end/defensive end) and 6-foot-4, 233-pound senior Drew Potter (running back/linebacker) should also stay busy this year. Johnson will even serve as Basehor-Linwood's punter, this time under the tutelage of new special teams coach and former Bobcat, Garrett Chumley.
The community got a taste of what to expect from the Bobcats offense Thursday when it watched Potter reach the end zone four times — two runs and two receptions.
"I saw two decisions where I questioned why he tried to go for 50," Hopkins said. "The rest of the time he understood that he was much better as a north and south runner."
Potter also picked off an early pass while at linebacker and had his name called often as a tackler.
If Basehor-Linwood fulfills the new gameplan designed for it, fans won't see shootouts with the frequency they've come to expect in recent years. Instead, with a large and experienced offensive line (three of five starters played every snap last year), this team will be about grinding it out.
"The ability to run the ball right at people has got to be our strength this year," Hopkins said.
Senior Josh Barnes (5-11, 238 pounds) started at center the past two years. Seniors Andrew Lillich (6-5, 313 pounds) and Austin Mecum (6-2, 226) will also be vital in allowing the Bobcats to execute its new, gritty philosophy.
Thursday was not without error, the first words from Hopkins after the scrimmage being "this was not up to our standards today." Hopkins was displeased with the amount of penalties and errors concerning alignment. Garver added that the preseason nerves might have accounted for some mistakes.
"It just wasn't us," he said.
The Bobcats will have another chance to get right with a Saturday practice before spending the week preparing for Friday's 7 p.m. home opener against Bishop Ward (0-9 in 2011). Hopkins, of course, isn't looking at the Cyclones as a dress rehearsal. Schlagle's Tim Dorian will begin his first year as Bishop Ward coach after leading the Stallions to a league title last year. In Bishop Ward, Hopkins expects a new philosophy. More hard-nosed, run-the-ball-at-you. Sound familiar?
The Bobcats' schedule has little slack, especially early, as they host Piper (7-4 in 2011) on Sept. 7 and travel to Mill Valley and Lansing the following two weeks.
"There's not a break in the schedule," Hopkins said. "Our goal is still district. We will focus on district no matter whether we have a great first six games or we struggle to find ourselves. We're always going to look at district to peak. That will never change."