Dumler personifies bulked up Braves football attack at Friday scrimmage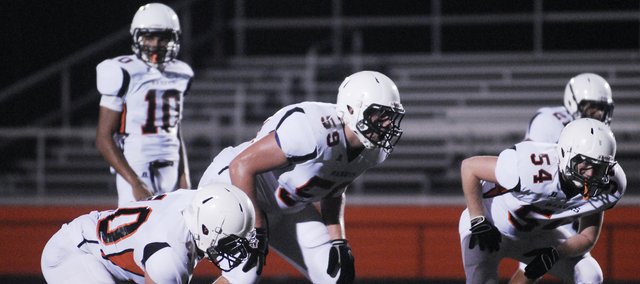 Photo Gallery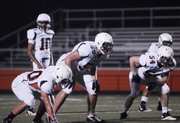 Bonner Springs Aug. 24 varsity football scrimmage
The Braves' varsity football team concluded the first annual Black and Orange Jamboree on Friday with a scrimmage, its first foray under the lights before opening the regular season on Aug. 31 at Turner.
Junior offensive lineman/linebacker Kyle Dumler stood inside David Jaynes Stadium on Friday, the varsity football scrimmage behind him and week one ahead of him, and considered how far he's come since last year.
Then a 224-pound sophomore with little confidence, Dumler thought his only value on varsity would end up being as a punter.
"But then (coach Lucas) Aslin just came in and turned me around," Dumler said.
When Aslin remembers the moment, he smiles in a way that suggests Dumler's turnaround is still fresh on the mind. One day at practice last year, Aslin said, Dumler was getting "beat like a dog." He watched as Dumler was beat for five, six sacks in a row, his embarrassment more visible each play. The next week was a different story.
"He comes out and just BOOM, knocks people down," Aslin said.
He hasn't stopped.
Dumler added more than 60 pounds to his 6-foot-4 frame this past offseason, set weight-room records by squatting 585 pounds and ran a 5.0 40-yard dash in front of Kansas State University scouts.
On Friday, the Braves concluded their first annual Black and Orange Jamboree with a varsity football scrimmage, a dress rehearsal for a year in which it makes over its offense, but enters the season stronger and more conditioned than in recent memory.
A second-year coach, Aslin overhauled the strength and conditioning program at Bonner Springs and watched summer conditioning numbers swell in concert with the builds of his players.
"Best coach I've ever had actually," Dumler said.
Now, when Dumler isn't anchoring the offensive line alongside senior Tyler Howell (6-8, 265), senior Shawn Bryant (6-0, 200) and Les Wessell (6-3, 265), he'll line up at outside linebacker in the Braves' 3-4 defense.
Dumler continued to impress his coaches on one of the scrimmage's final varsity possessions. In on defense, Dumler stuffed backup running back Brian Lanning and pressured junior quarterback Jordan Jackson into an incompletion on third-and-short.
"He's a guy that's been playing good in practice, but he played really well tonight," Aslin said. "He's been listening to what I've been telling him to do. He's been undercutting plays, squeezing blocks down and using his size."
Success this season will require the offensive line creating holes for Braves runners — led by Jackson and junior running back Jared Knershield — and allowing Jackson to spread out his passing attack.
No longer afforded the luxury of a downfield threat like Stevie Williams, or Jackson's older brother, J.J. Jackson, at running back, the Braves offense will take on a new identity in 2012.
"We're not going to be a big vertical threat," Aslin said. "We don't have that guy that can stretch the field — we've got a lot of dink and dunk guys. We do have 285-260-250-250-200 up front, a 185-pound guy (Knershield) that's a good runner and Jordy runs the ball well. So we'll be running the ball and trying a lot of play-action."
On Friday, Jackson broke loose for scrambles of 10 yards, 15 yards and a touchdown that spanned 50 yards. Passing the ball, he found receivers Weston Vitt and Jordan Blackwell for short completions of 9-yards or less to keep drives alive.
While Knershield earned the starting running back job this summer, he'll have a deep cast to spell him this year in junior Travon Martin and freshman Marcell Holmes.
Martin drew the ire of Aslin this summer with spotty practice and conditioning attendance, but was shifty and explosive each time he was handed the ball.
In Holmes, those in attendance caught a glimpse of a future varsity contributor that may see the field early in his career. Holmes made an early impression with a blistering 70-yard catch-and-run touchdown, and maintained his torrid pace each series for which he lined up.
"That cat's going to be good," Aslin said.
Also on Friday, the Braves took one step closer to shoring up its kicking situation. In 2011, the Braves did not make a single field goal.
Senior Jason Van Maren, a soccer player who recently began working out with the Braves, made a 32-yard field goal and showed good leg strength on kickoffs during Friday's scrimmage.
"Be nice to at least make one (field goal) this year," Aslin said.
When the Braves gathered at midfield following Friday's scrimmage, the focus turned to the following Friday: Week One, at Turner, a program with a new coach and a returning running back/quarterback in Paul Berry that will run the ball right at the Braves behind a large offensive line. Games like that scare Aslin, he said. But he soon added that every team scares him until his team clinches victory.
"It's game week," Aslin said.